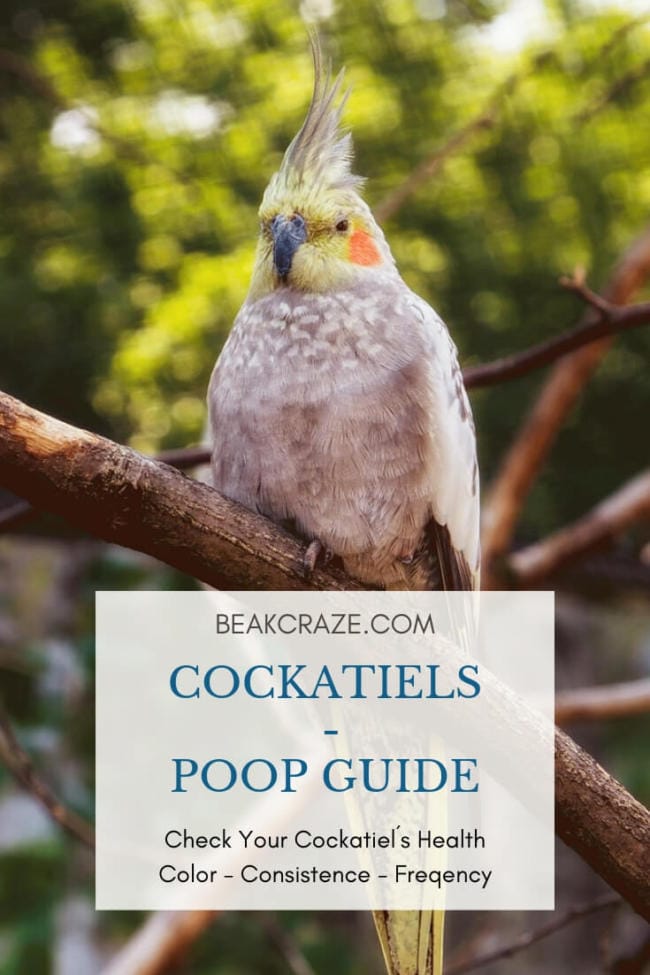 Did you know that you can easily check your Cockatiels health? You can! Simply look at its droppings!
Your avian chum's droppings are one of the best indicators of your bird's wellbeing. In short, always check the number of times a day he or she goes, the color, poop distribution in the cage, the volume and consistency. Any changes to the attributes mentioned above might point to problems that involve bloody droppings, parasites or liver complications. Keep an eye on your feathery friend and if the situation does not change seek out a vet.
Poop is not something we really like to talk about, but it is essential you know what to look for because it is a clear indicator of your bird's health.
For this reason, it should become a daily habit for any cockatiel owner to take a moment to examine the droppings to be sure that your feathered buddy is in mint condition.
All there is to know about your cockatiel's poop
Bird droppings are not just a pile of waste. Your bird's poop can provide much useful information about your avian chum's health.
Color, consistency and the distribution of the feces on the cage floor can tell an attentive bird owner whether his or her feathered friend may be suffering from a disease or a parasite infestation.
But first, it has to be said that bird poop is actually quite a remarkable creation. At this point, you might think how can anybody get excited about bird droppings.
However, if you think about it, this one-stop solution for urine, feces, and urates is quite ingenious.
Urates are the crystalline component of the urine and shed as wastage from the kidneys. It should appear chalky white and should neither be too solid or overly watery.
The feces are the only really solid part of the cockatiel's droppings. It should be tubular and located in the center of the poop.
Urine should be clear and to some extent resemble water – in a way it's similar to our urine. If you cannot tell the difference between the urates and the urine because it's cloudy, don't be alarmed as this sometimes occurs.
Normal cockatiel poop consists of a dark, solid area with a white to beige colored urine content in the center. This center part should have a creamy to a firm consistency unless the bird has drunk a lot recently or has eaten fresh food.
If the dropping's texture deviates from the consistency described above for a period longer than two hours, this could be an indication or the beginning of a health disorder.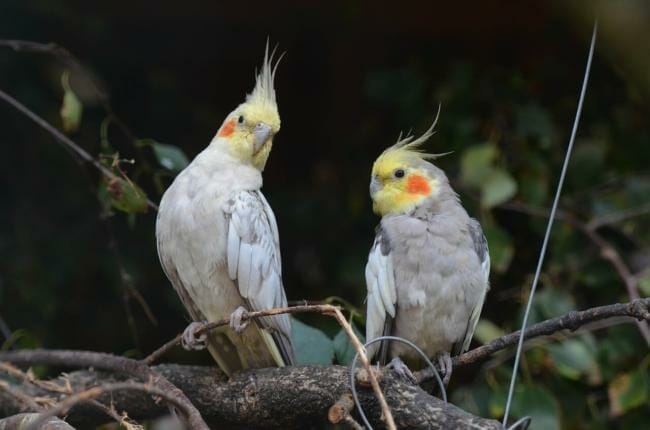 Runny Poop
Very liquid stools, which contain more moisture than solid fecal matter and appear over an extended period, point to a problem with the kidneys.
If, on the other hand, the droppings are liquid, the bird likely has diarrhea. In both cases, you should pay particular attention to your birdie.
If the situation persists, you should see a vet as soon as possible because sometimes dangerous infections are behind the symptoms. It makes sense to have a fecal sample examined by a laboratory to determine whether bacteria or a fungal infection are involved.
Just remember many things can cause runny poop, like stress, the diet, and the environment.
As we already mentioned, you can never check the bottom of your cockatiel's cage enough for abnormalities – also use paper to cover the cage floor rather than pine shavings, pellets or any other fancy solution because it will make poop identification easier.
Poop colors that indicate that there is something wrong with your 'tiel
Before we look at how the color of the bird's droppings points to illness, it is important to note that your birdie's diet can also cause discoloration. Green veggies will naturally create greenish poop, while blueberries and blackberries produce blackish droppings.
If the cockatiel's poop is reddish or dark brown to black and your avian chum has not eaten food that could have caused the color, then blood could be responsible for the discoloration. Also, metallic and zinc poisoning produces red or black droppings. If the discoloration remains over an extended period, you should have the feces examined by a professional.
If the poop is green and your cockatiel hasn't eaten any lettuce or the like, then your cockatiel might be suffering from Parrot Fever. Also, particularly for young birds, anorexia can be the cause.
Green droppings with a yellowish urine component point to a problem with the inner organs. If the liver is damaged, the organism will secrete more bile, which leads to a discoloration of the feces and urine. Therefore, you should contact your veterinarian as soon as possible. Liver disorders are caused by bacteria or fattening of the organ – the latter is unfortunately very common in cockatiels.
The distribution of poop in the cage
The distribution of droppings on the floor of the cage is an indication of whether your feathered chum is relaxed.
At night, a healthy bird should perch in the same place and sleep soundly. Consequently, the droppings will accumulate in a small space.
If, on the other hand, the cockatiel is restless and sleeps poorly, it will move about in the cage at night and spread its droppings over a larger area. In such cases, parasites such as blood-sucking mites could be the cause of your bird's restlessness.
However, it could also be that your Cockatiel has night frights. Cockatiels are known for having that.
That does not mean that every Cockatiel has it, but they are prone to it. If your Cockatiel starts to scream at night, or if he/ she is moving a lot in the cage at night, we highly recommend reading our articles below on that:
Opposite to the above situation, during the day, a healthy and active 'tiel will distribute his or her droppings over a large area in the cage, as it is in constant movement.
Concentrated accumulations of poop during the day may point to lethargy and possibly an existing illness.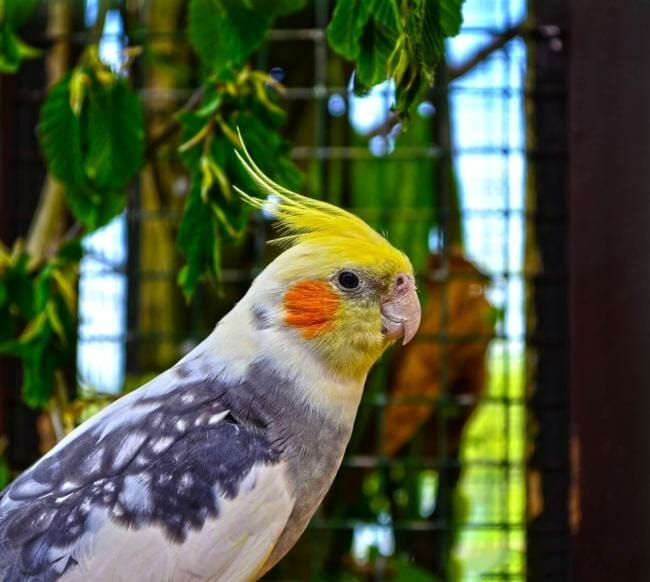 The difference between diarrhea and polyuria
Polyuria
Polyuria is often not caused by disease but is a normal form of poop. Polyuria can appear dark green or brownish and in normally shaped droppings.
A large amount of fluid usually surrounds the feces, and the white crystallized urine is generally wholly absent.
If your pet 'tiel ingests more water through its food or drinks more than its body requires, the excess liquid will be disposed of through polyuria. This form of liquid poop is entirely normal, and there is no need for action!
Polyuria also occurs during periods of stress. Fear, fright, and excitement accelerate bowel movement. As a result, the digested food passes through the intestinal tract faster than usual, and the liquid element is not removed in time.
Unfortunately, polyuria is also one of the symptoms of liver and kidney disease. It can also be associated with diabetes and hormonal imbalances due to excessive drinking (polydipsia).
Therefore, you, as a responsible cockatiel owner, should keep a close eye on the nightly droppings.
Diarrhea
Diarrhea can be a life-threatening emergency for cockatiels. In the case of real diarrhea, the dark green feces that is usually tubular is instead liquid, foamy or pudding-like.
You might also discover undigested grains, and for poisoning, you might even find blood. In addition, the poop might have a bad smell. Often, you will encounter feces in the plumage around the tail area.
If you encounter any of those signs, your cockatiel may have a germ infection, a parasite or fungus infection, food poisoning or the food was too fatty and affected the digestive system.
As a result, the bird will quickly lose fluids and vital minerals, leading to a drying out and a significant decrease in food intake. Due to the fluid loss, the blood is thickened, ultimately leading to circulatory failure and in the worst cases death.
In such situations, if the cockatiel is to have any chance of survival, your next stop should be the veterinarian's practice. Only a trained professional will be able to help.
Diarrhea is the body's defense mechanism to excrete toxins or other harmful substances.
If diarrhea persists like in the case of a germ infection, parasites, fungus infection or food poisoning, your bird will quickly lose fluid and vital minerals.
Treating diarrhea
Self-treatment with home remedies such as charcoal tablets or black tea is not the best way to go. It only alleviates the symptoms but does not fight the cause!
However, the vet may decide to use the methods as mentioned above as a parallel treatment to halt the loss of fluids or to bind toxins. Charcoal has an absorbing effect for birds, meaning that it binds substances on the surface.
As a result, not only toxins, but also vital minerals, nutrients, and orally administered drugs can be rendered ineffective, so it's best to consult the vet before becoming a self-proclaimed Internet-doctor trained at the University of Google.
Chamomile tea contains fewer minerals due to the boiled water. Also, many birds refuse to drink the tea, making the situation worse. Moreover, black tea contains caffeine, which can kill a bird.
The vet will probably suggest benign intestinal bacteria (like Bene-Bac for birds you can get it here) to rebuild the intestinal flora. Yogurt is unsuitable because it contains lactose, which is indigestible for birds.
Instead of tap water, you can offer non-carbonated mineral water when the cockatiel has diarrhea. Even better is an electrolyte solution. There are soluble powders in the pharmacy or a ready to buy Tyrode solution.
No poop or constipation
It is very rare for a cockatiel to suffer from constipation, but it does occur. A healthy bird will have between 18 to 26 droppings per day. However, if your pet birdie does not get enough movement, is generally not active and overeats, obesity can cause constipation.
Furthermore, something your cockatiel ate and the cause of internal obstruction could be the reason for the bird's constipation.
Fresh fruit and veggies act as a natural laxative. Also, make sure there is always enough water and sometimes a drop of sunflower oil can alleviate pooping problems. Get these pipettes to make sure that you are not using too much oil.
If your plumed pal has not gone for a while, check his or her backside to see if there is an amalgamation of feces near the vent. You might have to soak the spot with warm water to get everything going again. A drop of sunflower oil on the cloaca can help here as well.
If you changed your bird's nutrition and done all of the above and nothing gets better, seek out the vet for a professional opinion.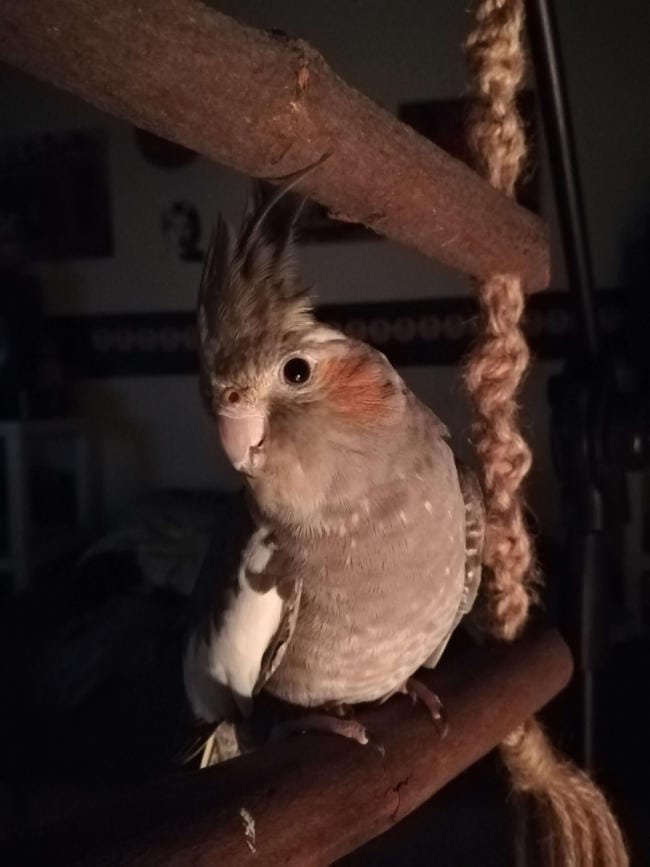 What you should do if your cockatiel has a poop problem
Once you know what is bothering your plumed pal, you can begin with the treatment. Never try and go it alone if the situation is serious. It's always best to consult a veterinarian first to be sure what ails your cockatiel.
Peace of mind will put both you and your pet birdie at rest.
And, like with people, runny poop quickly dehydrates. Make sure that your cockatiel gets enough liquid by encouraging your 'tiel to drink or bathe. If that does not work, try feeding it with watery foods like lettuce.
When it comes to their water intake, you should know what's normal and what's not. We created the articles below to help you a little bit with that. If your Cockatiel doesn't seem to drink enough or is suffering from runny stool, you should read them:
Even though it is not entirely about drinking water, we also recommend reading our article on spraying a Cockatiel with water here! This is a great way to rehydrate your Cockatiel, without forcing him/ her to drink!
Never try open your bird's beak to force down liquid because this invariably leads to panic and sometimes death.
If your pal in the cage refuses to eat or drink, you best consult your vet again. Whatever happens, your cockatiel needs a lot of TLC and quiet time, so make sure you create a space that is peaceful.
As with us, rest is the best medicine.
Related Questions
What are the signs for a sick cockatiel?
As a bird owner it is essential that you recognize anything that might point to your cockatiel being unwell like:
Exaggerated feather plucking
General weakness, lethargy, sleeping most of the time
Loss of balance
Sitting at the bottom of the cage
Lumps or swelling
Dull eyes
Shaking
The droppings are runny and smell strange
Change in character: more aggressive or more submissive than usual
How often should a cockatiel poop?
Generally, your avian buddy will need to go every 10 to 30 minutes. Big birds tend to go less often compared to small birds. Also, your 'tiel might poop when you pick him or her up.