I have seen many avian pet owners to get concerned over their birds' diet, toys, and cage. And as a new parrot owner, I used to be all worried about these factors contributing to my pet's well-being.
But over the years, I have realized that often many bird-owners forgot about the need for a bed for their parrots. However, sleep being an integral and vital part of ensuring your parrot's health, the importance of beds needs to be considered.
So, do parrots need a bed? Yes, some parrots need a bed to sleep well and better inside the cages. However, the needs and the personalities of each parrot being different from the other, a bed is not necessary for every parrot; but those who prefer the comfy feeling and suffer from night frights definitely need one.
Parrots are great social birds to be around. And believe it or not, but parrots like to feel comfy and snuggle. And while you focus on setting up the cage for your avian friends with toys and perches, forgetting about its bedding is never suggested.
From my experience of seven years with my two pairs of parrots, I can say for sure that giving them beds to sleep boost their sleeping experience inside the cage.
Whether it's a baby parrot or a large one, your bird may be looking for a bed to sleep and play. So, let's find out about why parrots need a bed, how they find a bed good and where you can find good beds for your parrots.
Reasons why parrots need beds
Parrots are known to be extremely intelligent, highly social and tremendously curious birds. Having such lively and talkative birds around can liven up the atmosphere of any household.
While parrots love to move around and stay active, they also require a good night's sleep. To ensure that your parrots receive the needed amount of sleep, installing comfortable beds in the form of nest or cave or tent or swinging hammocks can be a great idea.
Here is why parrots need and enjoy having a bed inside their cages:
Owning a bird is a big responsibility along with ensuring its well-being. Hence to make sure your parrots get good sleep (which they need to stay healthy), they need beds
A bed serves as a perfect place for your parrots to rest
A bed offers a parrot a sense of comfort and security and privacy
Beds offer your parrots a place to retreat when they are looking for seclusion during the day
Bird beds imitating nest cavities, they also help your parrots feel more secure and calmer while in cages or new environments.
In some bed caves, they can enjoy complete darkness at night which they need to sleep well as we describe in this article!
What makes a good bed for parrots
Nowadays, there are various types of beds available for parrots. But, as far as good beds are concerned it is recommended to opt for beds that are made with quality materials which pose no health threats to the parrots.
Since, parrots like to chew on almost everything, beds made with soft yet durable fabrics always should be on the priority list of any parrot owner.
Remember, if a bird can sleep comfortably, it offers a sense of security and helps it to become more used to the present house and the owner.
A good bed for your parrots is always the one that offers them with the needed support and comfort while sleeping. If the materials aren't soft or comfortable enough for your parrots, your birds may not like to go to it, rest alone sleeping on the bed or inside the hammock.
Depending on the size your parrots, make sure the bed you buy for them is spacious enough, as parrots often like to play on the beds and later sleep on them.
While opting for hanging beds or nests make sure to choose ones that come with necessary hooks and clips to offer a safe and properly hung bed to your parrots.
Along with comfort, a good bed for parrots should offer the birds with needed warmth during the cold weathers. Durability, lightweight and soft, portability and easy to fix are some of the qualities to be present in a good bed for your parrots.
Finding a good bed for your parrots
Beds for birds can be found in pet stores and retail stores. However, buying them online can save both your precious time and money.
Yes, there are many reputed and reliable websites such as Amazon that sell a variety of quality beds for birds, that also for very reasonable prices.
Here are some good quality bed options in case you wish to buy a quality bed online for your bird:
Stock Show Hanging Swing Hammock
This is a quality parrot bed of unique design and affordable price. For those parrot owners who want to provide their parrots with a comfortable swinging nest cum bed, this can be an ideal choice.
Being windproof, this hammock bed ensures a private and warm bed for your parrot. It can be a perfect choice for small or medium-sized parrots as a sleeping or playing place. Get it here.
Vktech Hanging Snuggle Cave
Coming in different colors such as pink, blue, yellow, etc., hanging snuggle cave can be another great choice for your parrots if you're looking for a soft and comfortable hut cum bed.
While its heat preservation feature saves your parrots from feeling cold, its high-quality thick plush fabrics ensure maximum comfort for your parrots. You can get it here.
Mydays Bird Nest House Bed
Made with high-quality canvas material, this parrot bed comes in the shape of a tent.
For those who are looking for an easily attachable warm home for their parrots where their pets can both sleep and play, this spacious cave hanging tent hammock can be a great choice. You can get it here.
Keersi Cotton Rope Bird Breeding Bed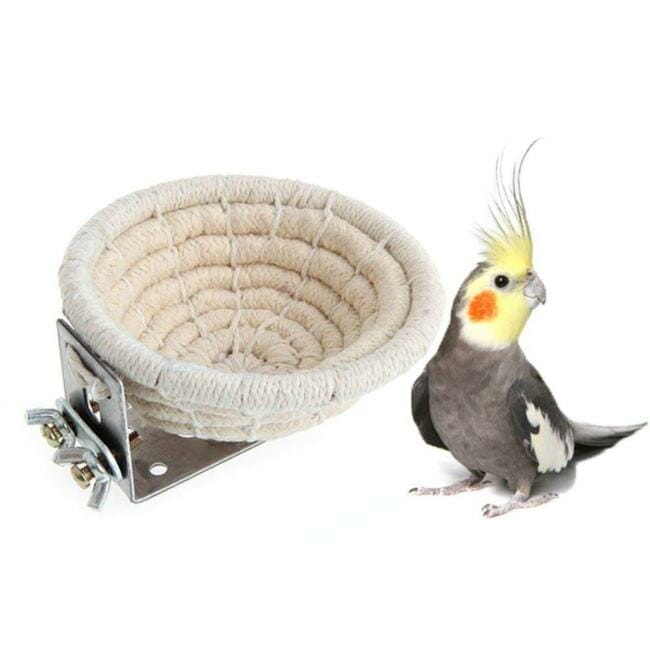 Ideal for small and medium-sized parrots, this handmade cotton rope bird breeding nest bed comes for an affordable price and with loads of quality features.
Serving as a comfortable and warm nest to your parrots for taking rest and sleeping, it also includes a mat where your parrots can play. You can get it here.
Related Questions
What to keep in mind when making DIY beds for parrots? When planning to make a DIY bed for your parrots, make sure to use safe and non-toxic materials such as containers without sharp edges as the bed frame or dried sponge or chamois cloth as mattress inside the bed. Before putting the bed for use, fasten it properly to the perch or the bars for safety.
Do parrots sleep during the night? Yes, parrots do sleep at night. Sleep being crucial to every bird's well-being, a parrot needs around 8 to 10 or 12 hours of sleep every night to stay healthy and happy. Due to the way nature has designed them, parrots follow the sleeping schedule of waking up at sunrise and sleeping after sunset.
Can parrots sleep with the lights on? Distractions like light or noise prevent a parrot from falling asleep at night. Since a bird's instinct is to stay awake as long as there is light and activity, parrots fail to sleep with lights on. Turning off the lights and covering the cage with covers help parrots to have undisturbed sleep.