African Grey Parrots require meticulous care, particularly in their diet, to maintain their health and well-being.
Feeding frequency directly impacts their physical health, mental well-being, and overall lifespan.
In this article, I will go into the specifics of how often these birds should be fed, taking into account various life stages—from hatchlings to seniors—and special conditions like breeding and health issues.
A good feeding schedule can ensure that African Grey Parrots can thrive in a domestic environment.
Feeding Frequency Basics
When it comes to African Grey Parrots, there is no one-size-fits-all answer for how often they should be fed.
However, general guidelines suggest that adult African Greys typically require feeding twice a day.
This routine aligns with their natural foraging behavior as well as satisfying their nutritional needs.
Several key factors influence the ideal feeding frequency for these parrots:
Age: The age of the parrot plays a pivotal role in determining feeding frequency. Younger birds, especially those still weaning, need more frequent feedings compared to adults. As they grow, the frequency gradually decreases until it stabilizes in adulthood.
Activity Level: Active birds may require more frequent feedings or larger portions to meet their energy needs. Conversely, less active or sedentary parrots might need fewer calories, impacting the amount and frequency of their feedings.
Health Status: A parrot's health significantly influences its dietary needs. Birds with certain health conditions or those recovering from illness may have different feeding requirements. Consulting with a veterinarian is crucial in these cases to tailor the diet appropriately.
Environmental Conditions: The parrot's environment, including temperature and lighting, can affect its metabolism and, consequently, its feeding needs. Birds in cooler environments, for instance, might require more energy to maintain body heat, influencing their feeding frequency and portion sizes.
I will discuss all of this in more detail in the sections that follow.
How Many Times to Feed African Grey Parrot for Different Life Stages
Young and Weaning African Greys
Frequency and Type of Feed: Hatchlings and birds under 12 weeks require frequent feedings with a specialized hand-rearing formula. These young birds typically need feeding every few hours.
Transitioning to Solid Foods: As they approach 12 weeks, the frequency of hand-feeding decreases as they gradually transition to solid foods. This phase involves introducing a mix of pellets, seeds, and soft fruits and vegetables.
Juvenile African Greys
Adjusting Feeding Frequency: As African Greys grow into juveniles, their feeding frequency can be reduced. They start to eat more solid food per feeding session, reducing the need for frequent feedings.
Introduction to a Varied Diet: Introducing a variety of foods at this stage is crucial for their development and can affect how often they need to be fed. A variety of foods, including pellets, seeds, fruits, and vegetables, are recommended.
Adult African Greys
Standard Feeding Frequency: Healthy adult African Grey Parrots typically do well with a well-balanced diet of two meals per day. This schedule aligns with their natural foraging instincts and helps them maintain a healthy weight.
Active vs. Less Active Birds: Active birds may require slightly more food or more frequent feedings, while less active birds might need less to avoid weight gain.
Breeding African Greys and Those Laying Eggs
Increased Nutritional Needs: Breeding birds and those laying eggs have higher nutritional requirements. This may necessitate more frequent feedings or increased food portions to meet their energy needs.
Special Dietary Considerations: Breeding females, in particular, need a diet rich in calcium and other nutrients to support egg production and their overall health.
Senior African Greys
Adjusting Feeding Frequency for Older Birds: As African Greys age, their metabolism slows down. This change might require adjustments in feeding frequency and portion size to prevent obesity.
Addressing Dietary Needs: Senior birds may also have specific dietary needs due to age-related health issues. Regular veterinary check-ups can help tailor their daily diet to these changing needs.
Special Considerations
Impact of Health Issues on Feeding Frequency
African Grey Parrots are prone to obesity, especially in captivity, due to reduced activity levels.
If a parrot is overweight, it may require a reduction in feeding frequency or portion size, along with a diet lower in fat.
Similarly, birds with liver disease or other metabolic disorders may need a specialized diet.
The frequency and type of feeding might change to include more liver-friendly foods and supplements, as recommended by a veterinarian.
Seasonal Changes and Their Effect on Feeding Routines
Like many birds, African Greys can be affected by seasonal changes. During colder months, they might require more calories to maintain body heat, leading to slight increases in food quantity or frequency.
Conversely, in warmer months, their metabolic rate might decrease, necessitating a reduction in feeding frequency or portion size to prevent weight gain.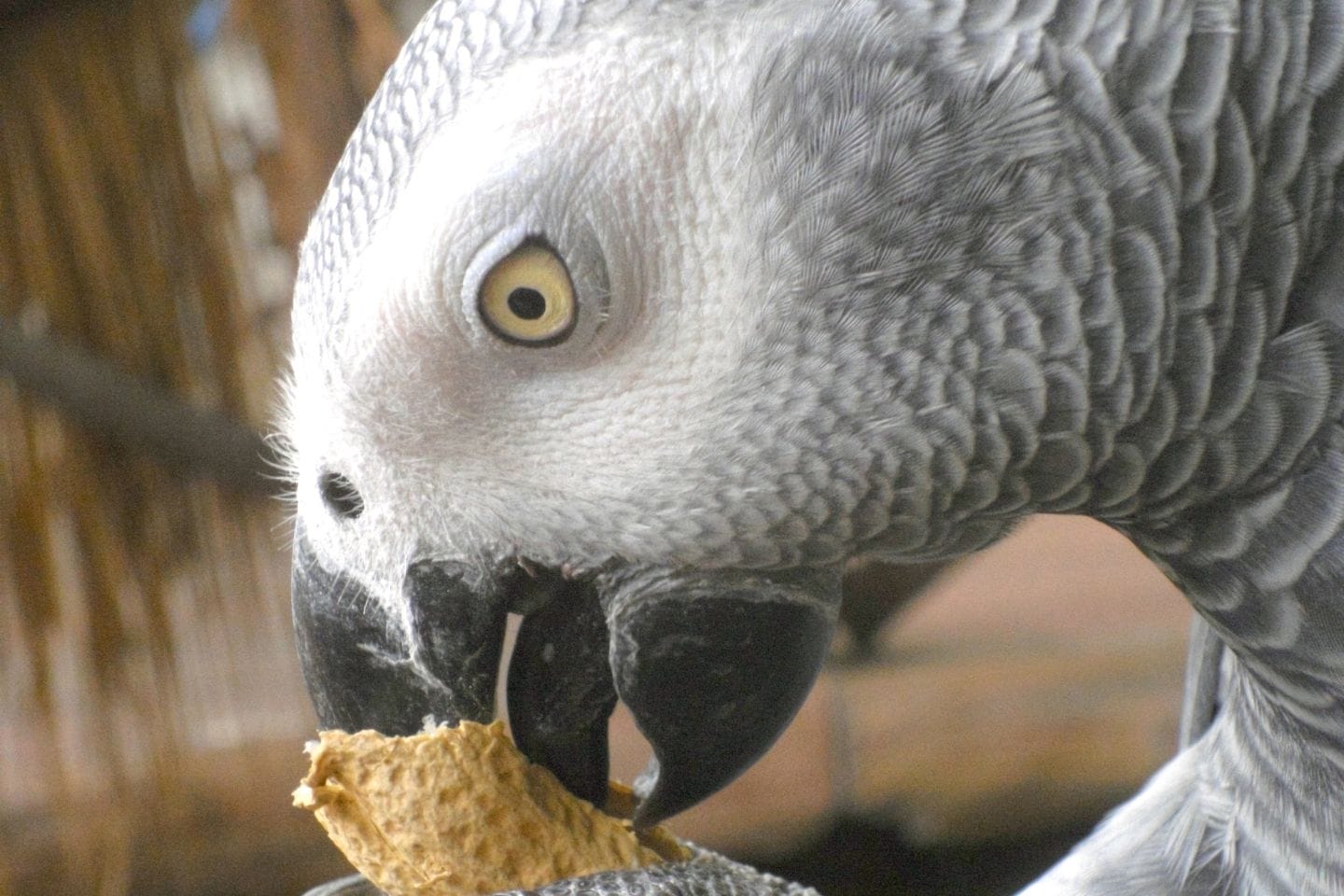 Practical Feeding Tips
Best Practices for Feeding African Greys at Different Life Stages
Consistency: Maintain a consistent feeding schedule to help regulate the bird's metabolism and digestive system.
Variety: Ensure a varied diet at all life stages to provide a range of nutrients and prevent boredom.
Quality: Choose high-quality pellets and fresh produce. Avoid processed foods and those high in sugar and fat.
Monitoring Weight and Health to Adjust Feeding Frequency as Needed
Regular Weigh-Ins: Regularly weigh your African Grey to monitor for any significant weight gain or loss, which can be indicators of health issues or dietary imbalances.
Health Checks: Regular health check-ups with an avian veterinarian can help identify any underlying issues that might affect feeding requirements.
Responsive Adjustments: Be prepared to adjust the feeding frequency and portion sizes based on the bird's health, weight, and activity level. This approach ensures that the bird receives the right amount of nutrition without overfeeding or underfeeding.
How Many Times a Day Should You Give Water to an African Grey Parrot?
African Grey Parrots should always have access to fresh, clean water. It's essential to provide them with a constant supply of water, rather than limiting it to certain times of the day.
Their water should be changed at least once daily to ensure it remains clean and free from contaminants.
Additionally, it's a good practice to regularly clean their water dishes to prevent the growth of bacteria and algae.
Conclusion
There is no static guideline on feeding frequency. How often African Greys need to be fed depends on their individual life stage, health, and environmental conditions.
From the attentive and frequent feedings required for hatchlings and weaning birds to the more regulated schedules for adults and seniors, each phase of an African Grey's life demands a unique approach to feeding.
Special considerations, such as health issues like obesity or liver disease and the impact of seasonal changes also need to be incorporated in their daily dietary management.African Grey caregivers must ensure that they discuss their bird's specific needs with avian veterinarians, who can offer the right insight and adjustments to feeding.