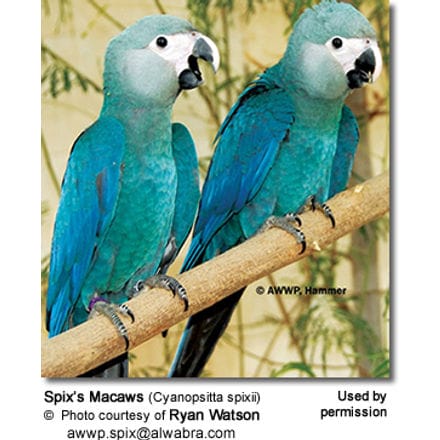 Around 1819, Dr. Johan Baptist Ritter von Spix shot a juvenile long-tailed blue parrot on the banks of the São Francisco River, near what nowadays is the city of Joazeiro, in the dry north-east of Brazil. This is the only wild-collected museum specimen of this species – all others were derived from captive birds.
At the time, Spix didn't realize that this was the first ever reported – he mistook his finding for a Hyacinth. Spix recorded that he found this species to be confined to gallery woodland along the banks of the huge Sao Francisco River; and that this parrot "lives in flocks, although very rare". That was indeed so — for over 150 years, this species was only known from a few traded birds.
In 1832, Spix's assistant, Johann Wagler, a Professor of Zoology at the University of Munich, recognized that the parrot specimen von Spix found was not a Hyacinth, as was recorded, but that it was indeed a new species belonging to a new genus. Wagler then named the bird after its original discoverer, von Spix, and the Spix's Macaw became catalogued for the first time.
In 1850s, the naturalist Prince Charles Bonaparte proposed that the species be included in a new monotypic genus – Cyanopsitta.
In June 1903, Othmar Reiser, on an expedition to north-eastern Brazil, reported two sightings – one of three birds (18th of June) and another of a pair (21th of June) – at the lake at Parnaguá in the state of Piauí. He described them as "extremely shy."
In 1927, Ernst Kaempfer and his wife searched for Spix's on the north shore of the Rio São Francisco near to Juazeiro. However, the only one they were able to locate was a captive bird that they saw at the Juazeiro railway station.
By 1970, only few dozen individuals survived in the wild woodlands of Bahia.
In 1974, Helmut Sick saw 7 specimens in the cities of Formosa and Riachão, in western Bahia. They were flying over a buriti palm (Mauritia flexiosa) plantation.
1977 – 1984 – According to locals, more than 9 individuals were trapped and taken from their habitat.
In 1980, Robert S. Ridgley saw several Spix's during his reconnaissance trips in the northeast of Goiás and south of Maranhão.
1984 – 1985: Trappers captured 10 to 12 birds (including at least 7 adults)
1985: Five birds remained. One was said to have been killed by a rancher.
In 1986, Paul Roth discovered three Spix's in Joazeiro – amongst them one breeding pair. According to locals, these birds also inhabited the other side of the São Francisco River, in territory of the state of Pernambuco, in the 1960s. The locals described the primary cause of the population decline to be the extensive capture of chicks in the nest for commercial purposes. Mr. Roth noted that the pair's attempts to breed were unsuccessful, mainly due to persecution by the trappers. Roth made the following important observations:
He found that these birds appeared to be especially attached to the tall trees that grew along the creeks. They were found to prefer some of the bigger caraiaba trees for nesting and roosting. Roth recorded that the Spix's were creatures of habit, consistently reusing favored nesting and roosting sites, making them predictable targets for trappers, hunters and predators.
He noted that their favorite / main food item was not the Buriti Palm (Mauritia flexiosa), but the "craibeira" (Tabebuia caraiba); in addition to feeding on Cnidoscolus phyllacanthus, Jatropha sp., Ziziphus juazeiro and Maytenus sp. (Note: since these parrots were often found close to Buriti Palms, they should not be excluded as favored feeding plants.)
Roth found that the main breeding season for these parrots commenced in November and went on until about March.
Roth learned from the local population that the Spix's population had suffered some losses following the introduction ofAfricanized honey Bees (Apis mellifera scutellata) which had colonized north-east Brazil. These aggressive insects were said to have killed Spix's Macaws in their nest holes.
Roth declared that he believed that these three Spix's were the last specimen surviving in nature.
In 1987: In May, Roth returned back at the Melncia Creek and found that only two were left. The third one had been captured a month earlier. In December of that year, Roth was advised that another one had been taken.
In January 1988, Roth found out that the last one had also been taken by trappers.
In 1988, after all three birds had been reported as having been captured, this species was considered "extinct" in the wild.
In June / July 1990, in response to reported sightings, an expedition was organized by the International Council for Bird Preservation (ICBP) / Chapada das Mangabeiras to organize a search for surviving members of this species. Leads took them back to Melncia Creek – the place where Roth had previously located the three birds a few years earlier. One single bird was found and was believed to be the last one that was reported to Roth as having been trapped, erroneously so, it appeared.
It turned out to be a single male (verified by DNA feather analysis from molted feathers) that was paired up with a female Blue-winged or Illiger Macaw.
In late 1992, during a Population and Habitat Viability Analysis (PHVA) Workshop, it was decided that this last surviving macaw would not be captured for captive breeding, but that it was more valuable in its natural habitat — both to benefit the conservation efforts in the wild; but also to observe it, to learn more about its survival skills, and to gain knowledge about its natural behavior and needs. This information would particularly be beneficial when reintroducing captive specimens back into the wild.
To this end, facilities were built in the Melncia Creek to assist with the introduction of captive parrots back into the wild. A female was selected for release. She was one of the birds that were captured in 1987 and was believed to be the wild bird's former partner.
In 1994, the first Workshop on Captive Breeding of the Spix's Macaw was held in conjunction with the CITES Conference in Fort Lauderdale, FL, and hosted by the CITES Secretariat. This event defined the genetic and demographic management strategy for the species and included major transfers and new pairings.
Detrimental to this species was that the locals viewed them as a potential source of income, which led to these macaws being trapped and hunted. Additionally, the need of locals was needed to keep track of the surviving Spix's which was not an easy task — due to its large home range and daily movements. It became apparent that the support from the locals for the program was essential for the success of this mission.
Therefore, the conservation efforts that were implemented (principally with the financial backing of the Loro Parque Fundación) included a campaign against hunger; as well as involving improvements to the local infrastructure, including the building of rural schoolhouses and even the controversial restoration of a century old theater. All of this effectively changed the locals' attitude towards these rare parrots, which they now considered a local asset deserving of protection; and its capture was now unthinkable – indeed a cultural taboo.
In March 1995, scientists set the captive female Spix's Macaw free, despite some uncertainties how this single female was perceived by the male and his current Blue-headed Macaw mate. Scientists were pleased to note that she appeared to have been accepted, as the three were soon seen flying together. Not long after, the introduced female and the wild male Spix's were observed spending more time together. However, she vanished only seven weeks later. It is suspected that she collided with a power line, based on the story by a local cowboy who claimed that he had seen the bird's dead body beneath some overhead power cables. After the loss of the Spix's female, the male continued his relationship with the female Blue-winged Macaw.
Breeding Season: 1996-1997: Previous breeding attempts yielded infertile eggs, even though the female incubated them normally. However, that year the hybrid pair produced eggs, which were removed from the nest and it was revealed that one had indeed developed an embryo (dead-in-shell). It turned out to be a fertile hybrid female, as proven by sequence variation in CHD1-Z and CHD1-W genes.
The Spix's eggs that were removed from the nest for observation and analysis were replaced with eggs taken from a nearby Blue-winged Macaw's nest. The pair successfully hatched them out, but the young fell prey to predators.
In December 1998, the hybrid pair produced another clutch. The eggs were removed and replaced with wooden eggs. At the end of the natural incubation period, the eggs were replaced with two 3-day old Illiger Macaw chicks. The following March, the foster parents were sighted together with two youngsters. It was noted that the Illiger Macaw chicks had taken on many of the Spix's characteristics, including behavior and vocalizations. This experiment was officially declared a success, and the next step would have been to replace the young with real captive-bred "Spix's" chicks.
In October 2000, the Brazilian Institute for the Environment and Natural Renewable Resources (IBAMA) informed the conservation community that the last known bird was believed to be dead. He was estimated to have been at least 20 years old at the time. It was speculated that he might have succumbed to a predator or died of an age related illness. However, no body was ever found.
Some sources state that the male simply disappeared – one of the reasons stated was the fact that a mining company had been allowed to begin cutting trails, drilling boreholes and digging trenches in the search of lead, copper, chrome, cobalt and diamonds" – and the resulting disturbances could have prompted the remaining Spix's to leave the area. (Ref. "the race to save the world's rarest bird" by Tony Juniper, page, 204). There is another unsubstantiated claim that the male had been trapped in response to an order placed by a wealthy Middle Eastern bird collector. However, the official story is that this bird had died.
Notwithstanding the sad and uncertain outcome, the last survivor has been valuable in allowing researchers to learn a lot about this species in its natural environment. That gained knowledge was not only historically of great value, but will also be valuable in any conservation efforts with respect to the current captive specimens and for potential reintroduction efforts.
Since 2000, there have been no sightings and they are believed to be extinct in the wild — however, since there are still areas within its range that remain unsurveyed, there is the possibility of small surviving populations.The occasional local reports (including from Serra da Capivara National Park) support that and give us some hope that this species may still exist in the wild.
As of 2010, there are about 75 Spix's Macaw held in captivity; 56 of these are managed at Al Wabra Wildlife Preservation (AWWP), State of Qatar, which implemented a successful captive breeding program,