Understanding the growth and development stages of African Greys is crucial for owners and breeders alike.
It ensures that they receive the right care at each phase of their lives, which is essential for their physical and psychological well-being.
One of the most common questions African Grey owners have about these birds is how to know whether their bird is fully grown or not.
Typically, African Grey parrots stop growing when they reach 8 to 12 months of age. There are several signs that you should watch out for to know whether your bird has fully grown.
In this article, I will look at the life stages of the African Greys, their growth, and answer some important questions regarding their development.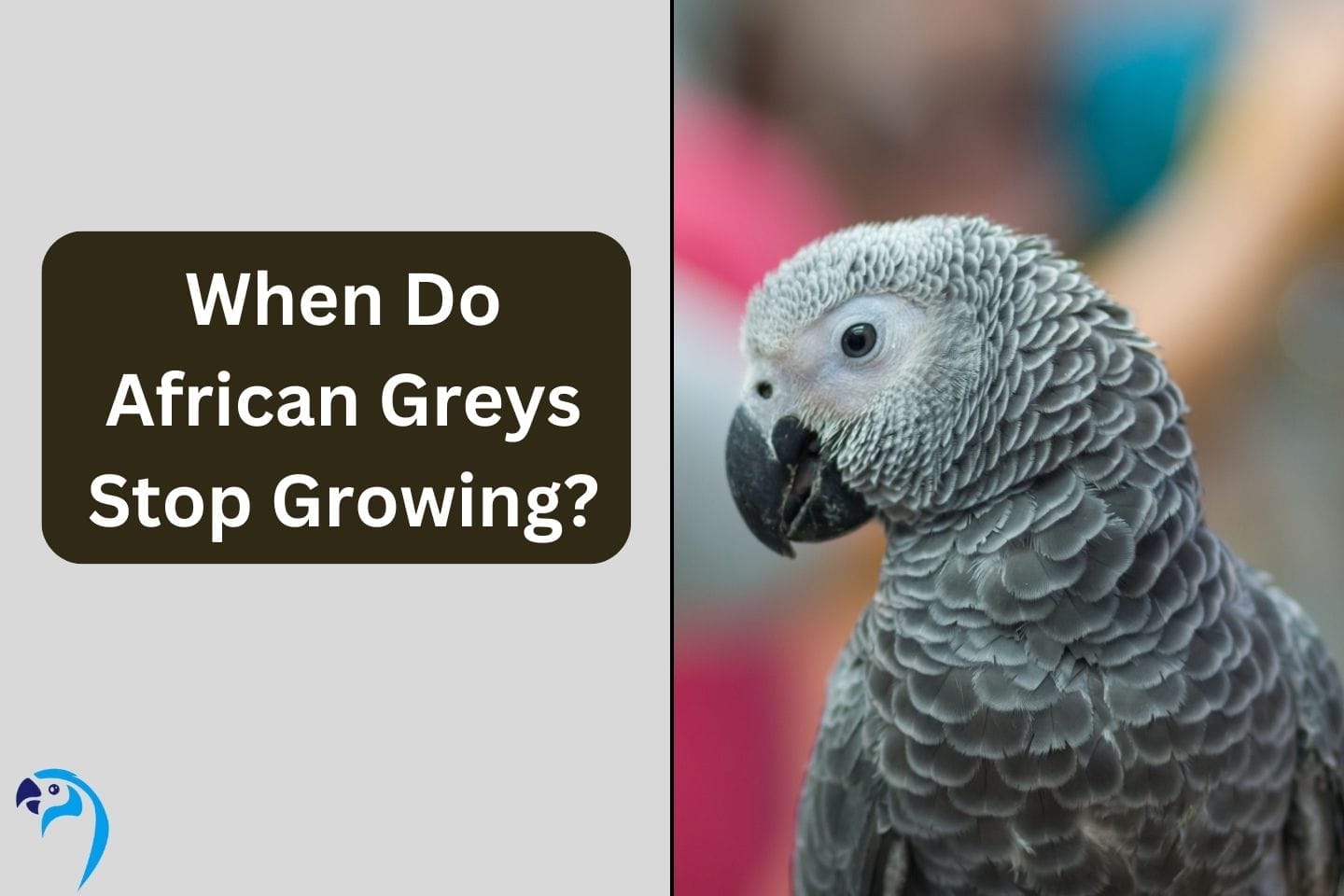 When Do African Greys Stop Growing?
Let's start with a direct answer to the question.
It takes around 8 to 12 months for an African Grey to become fully grown, though the age range can vary a bit depending on nutrition, environment, health, and other factors.
A fully grown African Grey parrot typically measures about 13 inches (33 centimeters) in length from the beak to the tip of the tail feathers.
Their wingspan can range from 18 to 20 inches (46 to 51 centimeters).
In terms of weight, a healthy adult African Grey usually weighs between 400 to 650 grams, with some variation depending on the subspecies, diet, and overall health.
The Congo African Grey tends to be on the larger end of the scale, while the Timneh African Grey is usually slightly smaller.
How Do You Recognize When Your African Grey Has Fully Grown?
Recognizing that an African Grey parrot has reached full maturity involves observing several physical and behavioral signs:
Physical Size: As mentioned earlier, African Greys typically reach a length of about 13 inches and a wingspan of 18 to 20 inches.
Once they attain this size and their weight stabilizes within the range of 400 to 650 grams, it's a strong indicator that they have stopped growing.
Feather Development: Mature African Greys will have a full set of adult feathers, which include their distinctive red tail feathers.
The plumage of a fully grown African Grey should be well-formed, vibrant, and complete, without the fluffiness of juvenile feathers.
Beak and Claws: The beak and claws of a fully grown African Grey will be fully developed and robust.
The beak should be strong and in proportion to the size of the bird, and the claws should be fully formed and functional.
Behavioral Changes: Mature African Greys may exhibit more complex behaviors, increased confidence, and stability in their interactions.
They may also show a greater capacity for learning and mimicking sounds and speech.
Eye Color: For most African Greys, the color of the iris changes as they mature.
Juveniles often have dark gray or black eyes, which gradually lighten to a pale yellow or straw color as they reach full maturity.
It's important to note that while these signs can indicate that an African Grey has stopped growing, individual birds may vary.
Other factors, such as nutrition and health, can influence their development.
Regular check-ups with an avian veterinarian can help ensure that your African Grey is on the right track to full maturity.
Growth Stages of African Grey Parrots
Let me now give a more comprehensive answer to the question of African Grey parrot growth. Below are the different growth stages of African Greys.
Hatchling to Fledgling: Early Development
In the initial weeks post-hatching, African Grey parrots experience rapid physical changes.
They emerge blind and almost featherless, relying entirely on their parents for warmth and nutrition.
Gradually, their eyes open, and pinfeathers begin to emerge, marking the start of their plumage development.
Their weight increases daily as they grow stronger and more robust.
These early days are characterized by instinctual responses such as begging for food and huddling for warmth.
As fledglings, they begin to exhibit early signs of independence, such as preening and exploring their surroundings, albeit clumsily.
Juvenile Stage: The Growth Spurt
The juvenile stage is marked by a significant growth spurt. African Greys develop their flight feathers during this time, and their bodies elongate to their adult size.
This period is critical, as proper nutrition and care are essential to support their rapid development.
It is also during the juvenile stage that African Greys start to experiment with sounds and vocalizations.
Initially, these may be simple chirps and whistles, but as they approach the end of this stage, they may begin to mimic sounds and speech they frequently hear.
Typically, it takes them between 8 and 12 months to reach this stage.
However, they may continue to fill out and gain muscular definition well into their second year.
Reaching Puberty
African Greys typically reach sexual maturity between 3 and 5 years of age.
During this time, owners may notice increased aggression, territoriality, and mood swings.
Signs of sexual maturity can include more pronounced mating behaviors, such as regurgitation of food, nest building, and increased vocalization.
This period requires patience and understanding from the owner as the parrot navigates its hormonal changes.
Lifespan of African Greys
African Grey parrots are known for their longevity, with a lifespan that can extend up to 40-60 years in captivity under optimal conditions.
In the wild, however, their lifespan is typically shorter, averaging around 22-30 years.
The discrepancy is largely due to predation, habitat loss, and other environmental pressures that do not affect captive birds.
Several factors influence the lifespan of African Greys, including genetics, diet, exercise, mental stimulation, and veterinary care.
A well-balanced diet rich in vitamins, a stimulating environment with plenty of social interaction, and regular health check-ups can contribute to a longer, healthier life for these parrots.
Reproduction and Breeding
As mentioned earlier, African Grey parrots typically reach sexual maturity between the ages of 3 and 6 years.
It's important to note that while they may be capable of reproduction at this age, that doesn't necessarily mean they should breed.
Responsible breeding should consider the birds' physical and psychological readiness, as well as the quality of their environment.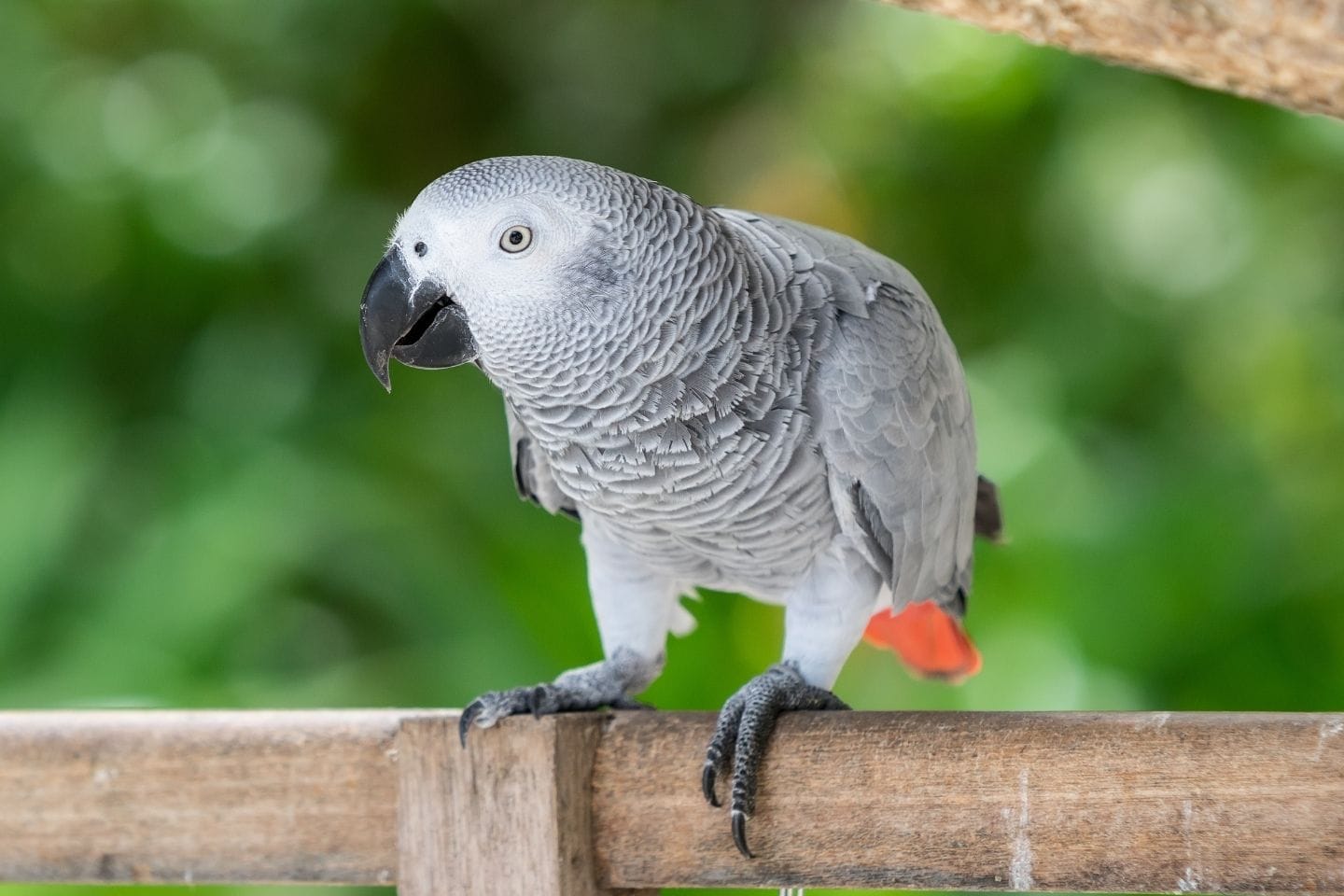 Breeding Behaviors and Patterns
Frequency of breeding in a year: In their natural habitat, African Greys may breed once or twice a year, usually timed with the rainy season when food is abundant.
In captivity, breeding frequency can vary depending on the environment provided by the breeder.
It's crucial to ensure that breeding pairs are not overbred, as this can lead to health problems for both the parents and the chicks.
Age when African Greys stop laying eggs: There is no set age when African Greys stop laying eggs; it can vary depending on individual health and conditions.
However, it's generally observed that their breeding productivity declines as they get older, often becoming noticeable as they reach their late twenties or early thirties.
Breeders should monitor their birds' health and adjust breeding practices as the birds age to ensure their well-being.
Care and Maintenance for Ensuring Healthy African Greys
Nutritional Needs Through Different Life Stages
Proper nutrition is paramount for African Greys at all stages of life.
Hatchlings and fledglings require a diet rich in protein for growth, while adults need a balanced diet consisting of pellets, fruits, vegetables, and occasional nuts or seeds to maintain health.
It's crucial to adjust the diet as they age to prevent obesity and ensure they receive all necessary nutrients.
Environmental Enrichment and Mental Stimulation
Environmental enrichment is essential for the well-being of African Greys.
A stimulating environment that mimics their natural habitat can reduce stress, prevent behavioral problems, and encourage physical activity.
This includes providing toys, foraging opportunities, and interaction with their human companions or other birds.
Moreover, African Greys are highly intelligent and benefit greatly from training and mental challenges.
Engaging them in activities that require problem-solving can enhance their emotional intelligence and strengthen the bond with their caregivers.
Consistent training sessions also serve as mental exercises, keeping their minds sharp and engaged.
Lastly, African Greys can suffer from various health issues, such as feather plucking, respiratory problems, and vitamin deficiencies.
Regular veterinary check-ups, a clean living environment, and a well-rounded diet are critical for prevention.
Conclusion
African Grey parrots undergo a fascinating journey from hatchlings to mature adults.
While they stop growing physically between 12 and 18 months of age, their development continues as they reach sexual maturity around 3 to 5 years old.
Recognizing the signs of maturity—such as stable size, full plumage, and mature behavior—is crucial for providing appropriate care at each stage.
Owning an African Grey parrot is a long-term commitment that requires a deep understanding of their needs.
Responsible ownership means ensuring that these intelligent creatures are provided with a nurturing environment that caters to their physical, emotional, and social needs.
It's a rewarding journey that demands time, patience, and dedication, but for those who are up to the task, the bond formed with an African Grey can be one of the most enriching experiences life has to offer.