African Grey parrots, with their striking red tails and intelligent gaze, have long captivated bird enthusiasts and pet owners alike.
Renowned for their remarkable ability to mimic human speech, these birds have not only become popular companions but also subjects of a broader discussion on animal intelligence and communication.
The central question that arises is whether these parrots can truly understand human language or if they are merely excellent mimics without comprehension.
In this article, I will address this question and also share some observations on African Grey intelligence and the role of the human companion.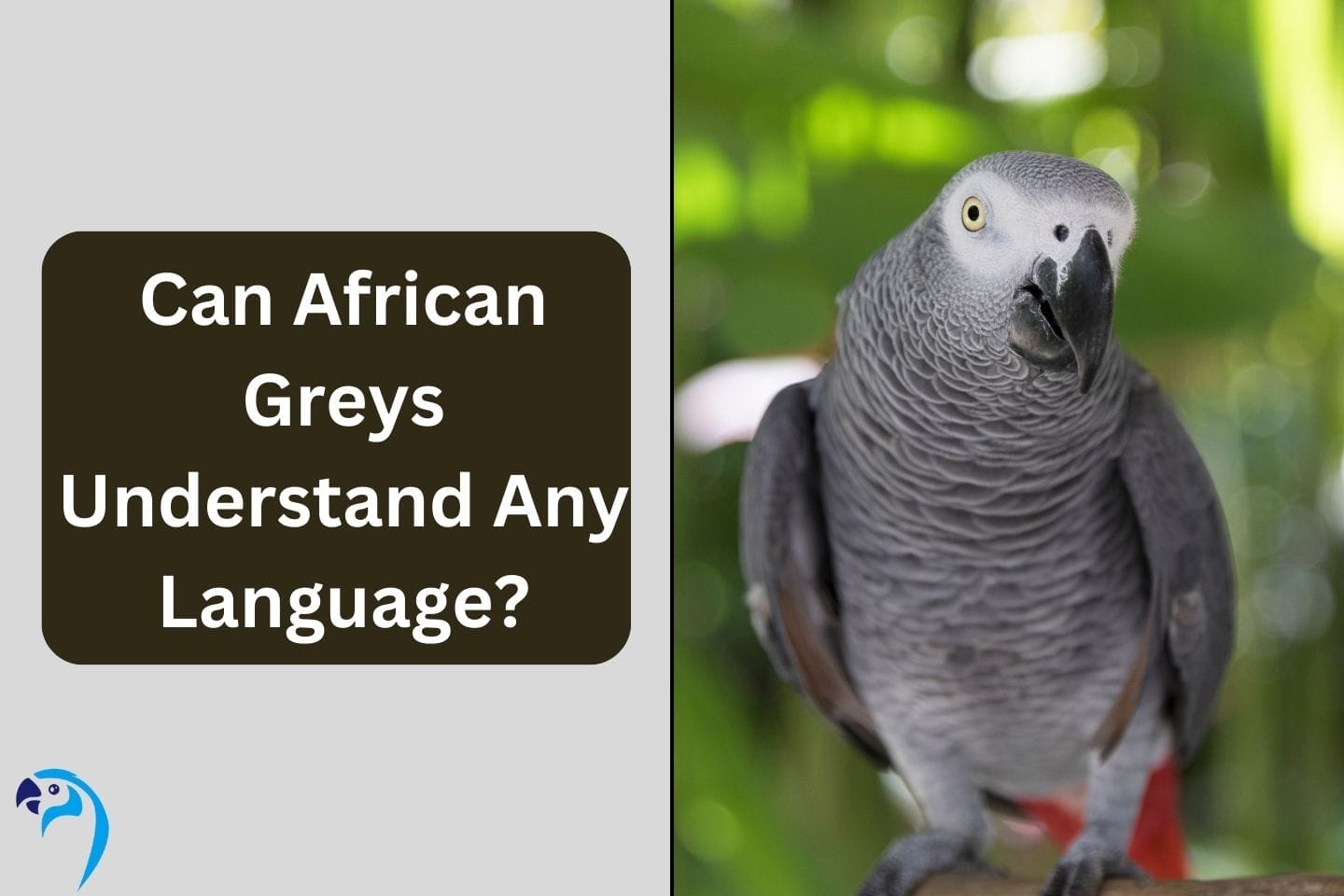 Can African Greys Understand Any Language?
What Does "Understanding" Mean?
Understanding language involves more than the ability to reproduce sounds.
For example, the dictionary meaning of the word understand is to perceive the intended meaning of words.
In the context of African Greys, they are able to associate words with meanings, actions, or objects, a skill that has been observed in numerous studies.
For instance, research spearheaded by Dr. Irene Pepperberg, notably with an African Grey named Alex, has demonstrated that these birds can learn to use words purposefully to identify objects, colors, shapes, and even express desires.
But does this mean that they truly understand them?
Can African Greys Understand Languages?
African Greys do not inherently "understand" language in the above sense; they learn through interaction and reinforcement.
Mimicry versus comprehension is a nuanced debate in the field of animal cognition.
Mimicry is a parrot's ability to replicate sounds and speech patterns it hears, which is often mistaken for understanding.
Comprehension, however, suggests a deeper cognitive process where the bird grasps the significance or meaning of the words it utters.
While African Greys show signs of comprehension to some degree, it is often within the confines of their training and experiences with their human handlers.
They can learn to associate specific words with actions, objects, or outcomes, but this does not equate to a human-like grasp of language.
Can African Greys Learn Multiple Languages?
Yes, African Greys can learn multiple languages, subject to their exposure and training.
While there is no inherent limitation to the number of languages they can mimic, the key factor is the consistency and context in which they are taught these languages.
Overall, African Grey speech exhibits a complex interplay of mimicry and potential comprehension, a testament to their intelligence and the sophisticated nature of their social interactions.
How Intelligent Are African Greys?
The intelligence of African Grey parrots is a subject of great interest and study.
These birds have shown cognitive abilities that, in some respects, are comparable to those of young human children.
For instance, African Greys have demonstrated understanding of concepts like bigger vs. smaller, differentiating colors and shapes, and even grasping the notion of zero—an understanding that is rare in the animal kingdom.
When comparing African Grey intelligence to human intelligence, it's important to consider the differences in species-specific abilities.
While African Greys cannot match the full linguistic and reasoning complexity of humans, their problem-solving skills, memory, and emotional intelligence are notable.
They can solve puzzles, remember the locations of hidden objects, and even exhibit behaviors that suggest an understanding of cause and effect.
The Case of Alex
One of the most significant studies on African Grey intelligence was conducted by Dr. Irene Pepperberg with a parrot named Alex.
Over the course of 30 years, Alex learned to identify and vocalize over 100 different words, which he could apply in context to communicate with researchers.
He could understand concepts like 'same' and 'different,' and use phrases contextually to express his desires, showing a level of intentionality behind his speech.
Alex's achievements have been documented in numerous academic papers and books, providing valuable insights into the cognitive capabilities of parrots.
Social Interaction and Intelligence
Social interaction plays a pivotal role in the language learning of African Greys.
These birds are inherently social creatures, and in the wild, they rely on a complex system of vocalizations to interact with their flock.
In a domestic setting, humans become their flock, and they naturally attempt to communicate using the 'language' of their human companions.
The quality and frequency of social interactions with humans can significantly influence their ability to learn and use language.
African Greys that are regularly engaged in conversation and interactive play are more likely to develop a broader vocabulary and use it more effectively.
To summarize, the intelligence of African Greys is multifaceted and continues to intrigue and challenge our understanding of animal cognition.
Communication and Context: Some Examples of What African Greys Are Capable Of
As mentioned earlier, African Grey parrots exhibit a sophisticated level of communication that goes beyond mere mimicry, utilizing context to give meaning to the words and phrases they learn.
These parrots are adept at picking up on social cues and environmental contexts to use their vocalizations appropriately.
For example, an African Grey may learn to say "goodbye" when it sees someone putting on a coat or approaching a door, associating the word with the action it typically precedes.
There are numerous other instances of African Greys understanding and using human language appropriately.
One of the most famous is the aforementioned Alex, who could use the word "want" followed by the name of a color, shape, or material to express his desire for specific objects.
Another example is an African Grey that learned to say "wanna shower?" when it wanted to be misted with water, demonstrating an understanding of the phrase by using it to make a specific request.
These instances show that African Greys are capable of using language in a way that is meaningful and relevant to their situation, indicating a level of cognitive processing that goes beyond simple repetition.
Training and Learning
How much an African Grey learns and how quickly it does it is subject to how well it is trained. Their ability to understand language is a direct function of it.
The process through which African Grey parrots learn language is both complex and fascinating.
It involves not only repetition and mimicry but also a deep level of interaction and reinforcement.
African Greys are highly intelligent and require consistent engagement to learn effectively.
The time it takes for an African Grey to begin talking can vary widely, with some birds starting to mimic sounds within weeks, while others may take several months or more to articulate their first words.
The variability depends on factors such as the individual bird's propensity for vocalization, the training methods used, and the frequency and quality of human interaction.
Training methods also have a profound impact on a parrot's ability to understand and communicate.
Positive reinforcement is key; rewarding a bird with treats, praise, or attention when it attempts to speak can encourage further vocalizations.
Conversely, negative reinforcement or punishment can lead to stress and a reluctance to engage.
Training should be consistent and involve a variety of words and phrases that are used regularly in the bird's presence.
This consistency helps the parrot understand the context and appropriate use of words.
Training Tips
For owners looking to teach their African Greys to talk, here are some practical tips:
Start Early: The best time to start training is when the parrot is young, as they are more receptive to learning new sounds.
Be Consistent: Use the same words and phrases regularly to help the bird learn through repetition.
Use Clear Enunciation: Speak clearly and distinctly, as African Greys are adept at picking up on nuances in sound.
Engage Regularly: Spend time each day interacting with your parrot, as regular engagement encourages them to communicate.
Create Associations: Link words to actions or objects to help the bird understand the context of what it is saying.
Reward Attempts: Provide treats or affection when your parrot attempts to speak or successfully uses a word correctly.
Avoid Overstimulation: Training sessions should be short and positive to avoid overwhelming the bird.
Be Patient: Recognize that learning to talk is a gradual process, and every bird will progress at its own pace.
Encourage Social Interaction: Allow your African Grey to observe and interact with people, as social dynamics can stimulate the desire to communicate.
Monitor Your Bird's Health: A healthy parrot is more likely to be an active learner. Ensure your African Grey has a proper diet, exercise, and mental stimulation.
By following these tips and understanding the learning process, owners can enhance their African Greys' ability to communicate and form a deeper bond with their feathered companions.
The Role of Owners in Language Development
The role of the owner in the language development of African Grey parrots is also pivotal.
The quality and frequency of interactions that owners have with their parrots can significantly influence the birds' language acquisition and communication skills.
Social Learning
African Greys thrive on social interaction and are more likely to develop a robust vocabulary when they are actively engaged by their owners.
Owners who regularly speak to their African Greys provide a rich environment for language development.
The parrots are social learners and often pick up on the nuances of speech through this regular interaction.
They are more likely to repeat words and phrases that are used frequently and with clear emotional context.
For example, an African Grey is more likely to learn greetings such as "hello" or "goodbye" if these words are consistently used when someone arrives at or leaves the house.
Consistency
Consistent and meaningful communication from owners is essential. African Greys are more apt to understand and use words appropriately if they are taught in context.
For instance, if an owner consistently says "want food" while feeding the parrot, the bird may begin to associate that phrase with hunger or the desire to eat.
This consistent contextual association helps the parrot not only to mimic but also to use the phrase in a way that demonstrates a level of understanding.
Tone and Body Language
Furthermore, the emotional tone and body language of the owner can also reinforce language learning.
African Greys are sensitive to their owners' moods and may be more responsive to learning when interactions are positive and engaging.
Owners who are enthusiastic and expressive when communicating with their parrots often find that their birds are more eager to participate in the exchange.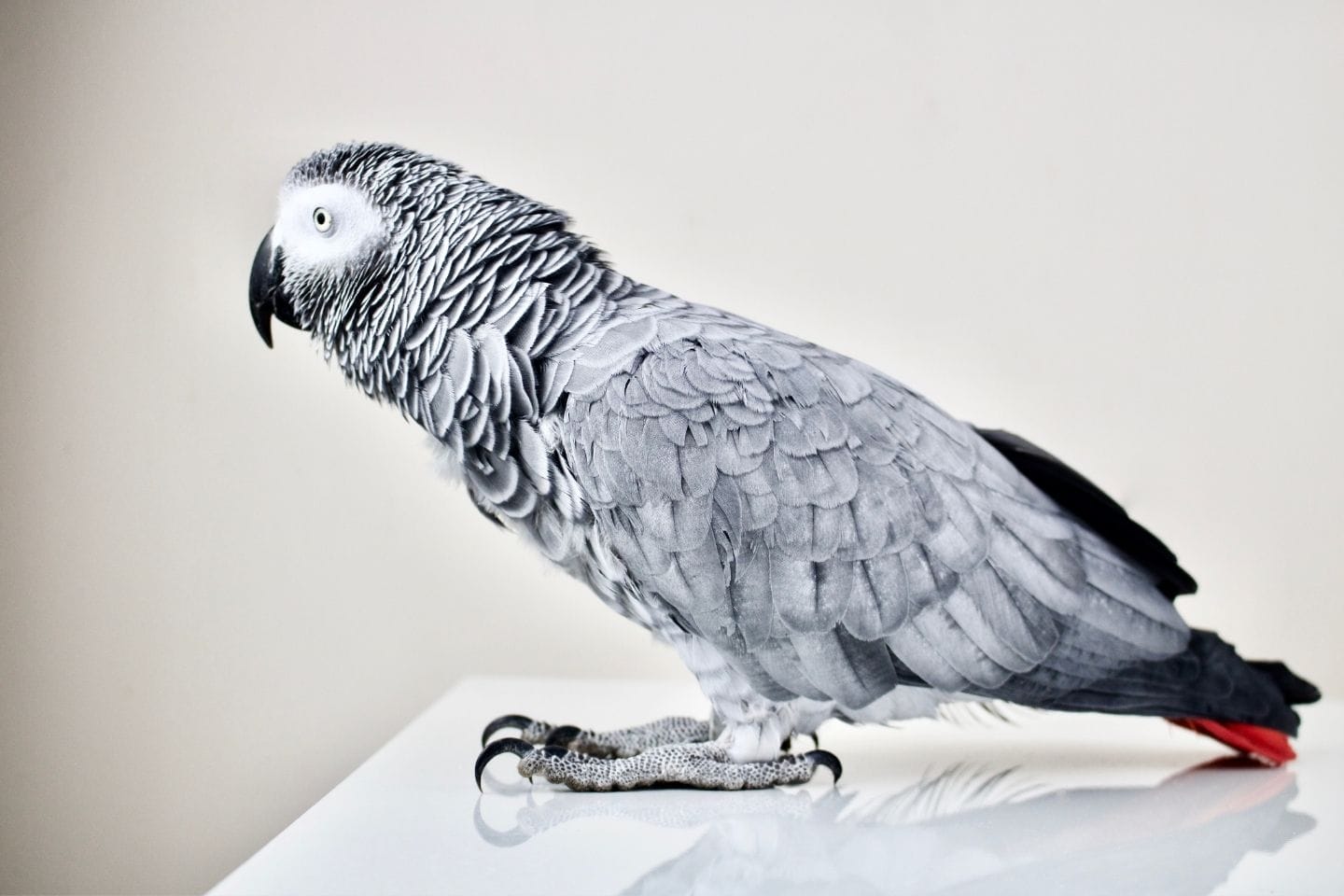 Frequently Asked Questions
Can African Grey parrots understand multiple languages? 
Yes, African Grey parrots have the ability to mimic and understand phrases in multiple languages.
Their capacity to do so depends on their exposure to different languages and the consistency with which they are taught.
However, their understanding is based on the association of sounds with outcomes or objects rather than deep linguistic comprehension.
Can African grey parrots understand what they say?
Yes, African Greys can understand what they say in a partial sense.
African Grey parrots can learn to associate words with their meanings, actions, or objects, which suggests a level of understanding.
For instance, they may learn that saying "water" can result in them being given water.
This association shows a cognitive connection between the word and its referent, but it's not the same as the complex understanding that humans have.
Can African Greys learn language?
African Greys can learn to mimic language and use it in a way that appears to demonstrate understanding.
They can be taught to recognize and repeat words and phrases and to use them in appropriate contexts.
However, their "learning" of language is different from human language acquisition and is more about learning through repetition and reward.
How intelligent are African Greys?
African Grey parrots are highly capable learners. They can learn a variety of vocalizations and understand the context in which to use them.
They can also learn non-vocal tasks and have demonstrated the ability to solve problems, make choices, and even understand the concept of zero, which is rare in the animal kingdom.
Their learning process is enhanced by social interaction, mental stimulation, and positive reinforcement.
What can African grey parrots learn?
African Grey parrots are highly capable learners. They can learn a variety of vocalizations and understand the context in which to use them.
They can also learn non-vocal tasks and have demonstrated the ability to solve problems, make choices, and even understand the concept of zero, which is rare in the animal kingdom.
Their learning process is enhanced by social interaction, mental stimulation, and positive reinforcement.
Conclusion
Throughout this article, I have explored the remarkable capabilities of African Grey parrots in relation to human language.
These birds have demonstrated a level of intelligence that is both intriguing and complex, showing abilities that rival those of young children in certain aspects.
African Greys can mimic human speech with impressive accuracy, and more significantly, they can learn to use words contextually, suggesting a form of understanding.
Social interaction is as a critical factor in the language learning of African Greys. These parrots are inherently social and rely on interaction for their mental well-being and language development.
Owners play a vital role in this process, with the quality and consistency of their communication greatly influencing the birds' ability to learn and use language.
Finally, it's clear that African Grey parrots possess a fascinating potential to understand and use human language.
While they may never fully comprehend language as humans do, their ability to communicate within context, to learn, and to interact with their human counterparts is a testament to their extraordinary intelligence.