Do you have a cockatiel and wondered whether their bites will hurt you? While we never want to think about our little bird friend's biting us, it can happen for a number of reasons. Despite their size, it is important to realize that cockatiels do have a beak and they will bite if they feel like they have to.
Do Cockatiel Bites Hurt? There is no doubt that a hard cockatiel bite will hurt. There is the possibility of the beak breaking the skin and causing some pain. But this will normally be the last reaction of a cockatiel and other types of bites will only give you a fright and some discomfort, rather than cause a lot of pain.
The good news is that you can stop your cockatiel from biting you. You just need to know what is causing them to bite and how you can tackle the behavior. Let's have a look in more detail.
Does a Cockatiel Bite Hurt?
Any animal biting you is going to cause some level of discomfort. This is especially true if you have children you may be affected more by a cockatiel bite than an adult.
To answer the question; yes, a cockatiel bite can hurt. But there are different types of bites, which will cause varying levels of pain. For example, pecking may only be uncomfortable while a hard bite will cause pain. Most of the time, you will get a fright if you were not expecting it.
Pecking for Stability
If your cockatiel pecks you before they stand on your finger or hand, they are not meaning to hurt you. Instead, they are trying to help themselves climb on.
They peck to provide themselves with the stability they need to get up to a different height if they cannot jump or shuffle.
Again, they do not mean to hurt you; they are just stepping up. This means that a peck is unlikely to hurt you. If anything, it may cause slight discomfort for less than 30 seconds.
Nipping Your Finger
The first real bite you should be wary of when it comes to your cockatiel is a nip. This is going to give you a fright, as it usually happens quite quickly and without warning.
It will feel like minor pressure but not break any skin or cause injury. This is usually a warning bite by a cockatiel.
They are trying to communicate to you that they are uncomfortable or scared about something that is near to them. This may be you, a loud noise or something new in their cage. The best thing you can do is give your feathery friend some space to gain some confidence again.
A Forceful Bite
A powerful bite by your cockatiel can hurt and may cause small red marks on your skin, depending on where they bite you.
All bites are forms of communication by your bird and they are most likely biting you because they do not like something that you are doing. This is their way to tell you to stop whatever you are doing. You may feel discomfort for a few minutes afterward.
A Hard Bite
The most painful bite is the hard bite from your cockatiel. This is going to hurt the most and your cockatiel may hang on for a few seconds to make their point.
There is the possibility that they could break the skin and you will normally get a fright when it happens. Cockatiels will only bite you this hard if they are terrified. They may think that you are trying to harm them.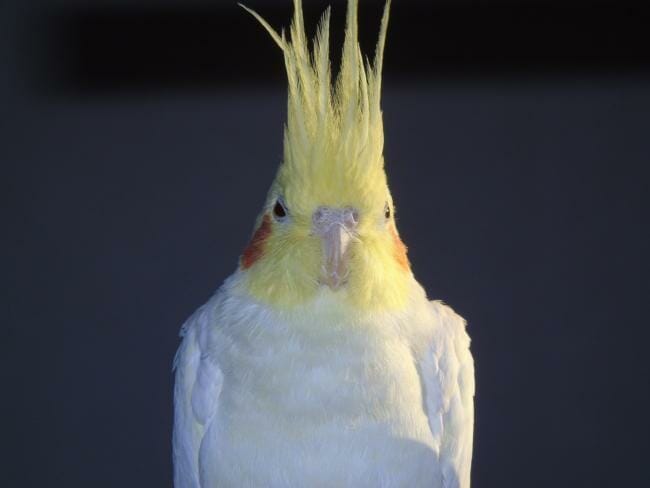 Why Does My Cockatiel Bite?
The most important thing to remember about your biting cockatiel is that there must be a reason for it.
Usually, they will exhibit warning signs to communicate how they feel about a situation before they react.
For example, this can be by moving away from you, spreading their tail feathers or by making a hissing sound. Hissing in Cockatiels can have various reasons, we show you everything you should know about that here!
Cockatiels are prey animals, which means that biting normally results from fear and self-defense. It can take a while for cockatiels to bond with you, which will be especially true if they have been adopted and have been scared of their former home.
It can take them a while to get used to any environment. So, give your Cockatiel some time to come out of their shell. In addition, make sure that your cockatiel has plenty of things to keep them occupied so they do not bite out of boredom.
How Can I Prevent My Cockatiel from Biting?
Once you have figured out why your cockatiel is biting you, you can think about how you can react when it happens.
There are lots of techniques you can use to stop your cockatiel wanting to bite you again. None of them involve using punishment, which will have the opposite effect that you want. Let's check them out.
Do Not React
The first thing you will probably want to do when your cockatiel bites you are let out a yelp or even discipline your feathery friend.
But it is actually recommended not to take this approach. The best thing you can do in this situation is to not react to the bite.
This is because cockatiels like to see a reaction from their behavior, whether this is positive or negative. If you respond, this may be enforcing and rewarding the behavior, rather than discouraging it. So, you do best just to walk away without saying or doing anything.
Build a Bond
If your cockatiel is scared of you or apprehensive about interacting with you, they may bite. So, how can you prevent this? Well, you have to build a bond. This can help your bird to trust you and know that you mean no harm to them.
You should never rush to pet your cockatiel or handle them. Take everything slowly and allow them to come to you first. Simply start by offering them your hand with some food.
You want your cockatiel to come over and take it from you because they want to; not because you are forcing them to.
Over time, they will understand that you are not a threat and want to socialize with you more. More importantly, they will not feel the need to bite.
The right treats can do wonders for you in such a situation! We have listed 15 treats your Cockatiel will love in this article!
Related Questions
How can I stop my cockatiel from being bored? A good way to amuse your Cockatiel is by providing them with toys in their cage or creating a play area. This will provide them with some mental stimulation and excitement. For example, cockatiels like shiny objects and bells. So, introduce some new toys to see them have some fun.
How should I handle my cockatiel? The best way you can hold your cockatiel is by gesturing out your finger or hand to them. It is important that they come to you and you do not force them. You can also hold a stick or something else they can wrap their claws around for balance.
Can I touch my cockatiel? Your Cockatiel can enjoy being touched, as long as they have a bond with you. Always be gentle when you are touching their feathers. Do not squeeze or ruffle the feathers.