African Grey Parrots are among the most popular avian pets worldwide.
One of the most common questions prospective caregivers have about them is regarding their size and how large their cage should be to keep them comfortable.
In this article, I will try to provide answers to both of these questions.
I will look at the specifics for both subspecies, the Congo and Timneh African Greys, exploring and highlighting their size, weight, and wingspan.
Additionally, I will discuss cage setup and enrichment, which are vital for the physical and mental health of your bird.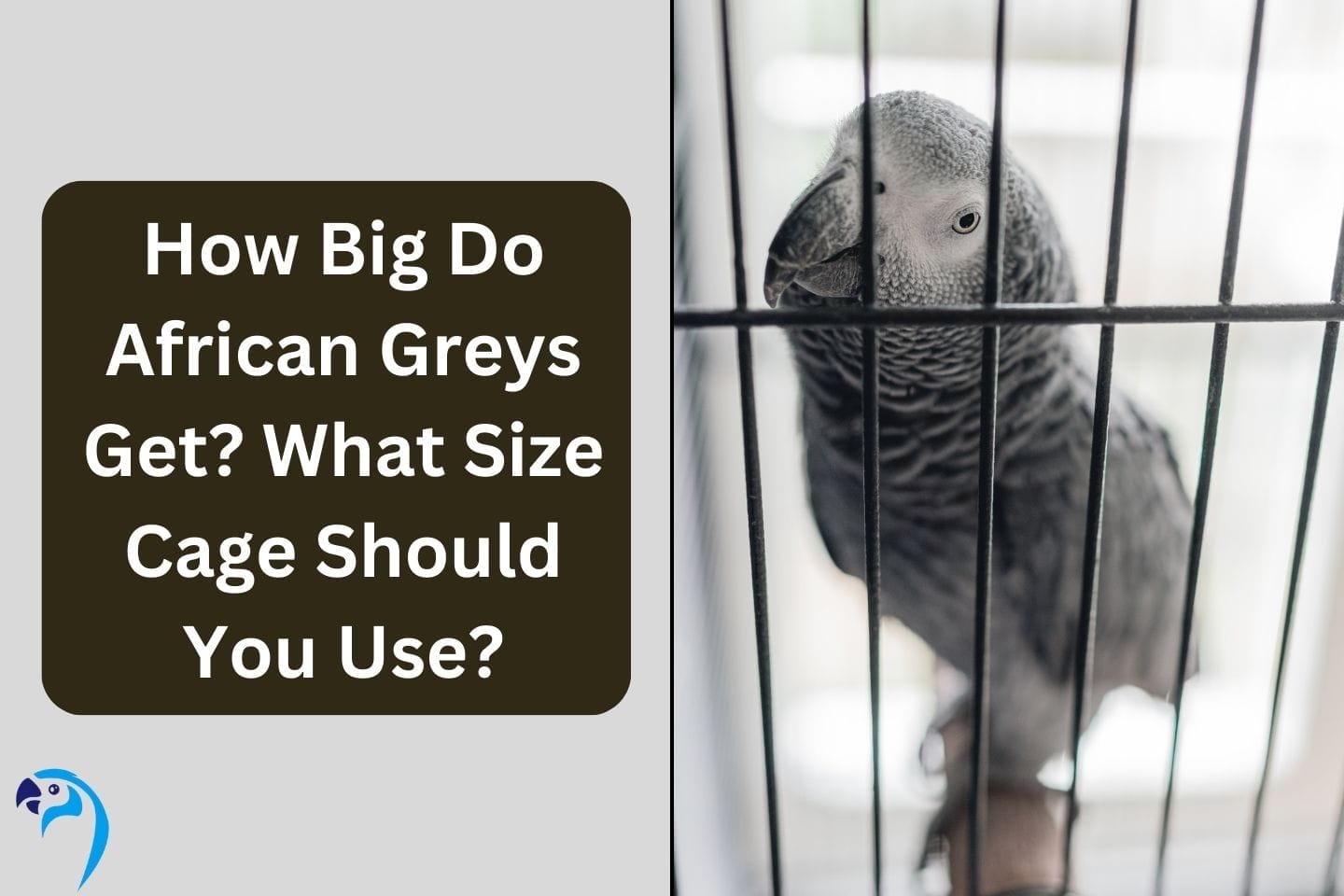 How Big Do African Greys Get? Understanding African Grey Parrot Size
African Grey Parrots are categorized into two primary subspecies, each with distinct physical characteristics: the Congo African Grey and the Timneh African Grey.
Congo African Grey: Size, Weight, and Wingspan
The Congo African Grey is the larger of the two subspecies. Typically, they measure between 30 to 40 centimeters (11.8 – 15.7 inches) in length.
In terms of weight, a healthy Congo African Grey ranges from 400 to 650 grams. Their wingspan is an important consideration for cage size and exercise needs, extending up to 50 to 60 centimeters (19.7 – 23.6 inches).
Timneh African Grey: Size, Weight, and Wingspan
The Timneh African Grey, slightly smaller, has a length ranging from 23 to 28 centimeters (9 – 11 inches).
They weigh between 250 and 375 grams, reflecting their smaller stature. The wingspan of a Timneh African Grey typically reaches around 46 to 52 centimeters (18 – 20.4 inches), which is proportionate to their body size.
This difference in size impacts the choice of cage and the space required for their well-being.
Growth Stages and Development Timeline
If you are planning to get a younger bird in your home then its also important to know their growth stages and size as they grow.
African Grey Parrots undergo significant growth from hatchlings to adults. The journey begins in the egg, with a gestation period of about 30 days.
Hatchlings weigh a mere 10 to 15 grams and are entirely dependent on their parents.
Rapid growth occurs in the initial weeks, with the chick's weight increasing up to tenfold within the first month.
Weaning occurs around 12 weeks of age, but they may not reach full maturity until they are 3 to 5 years old.
This extended development period is crucial for their physical and mental growth.
Choosing the Right Cage
The selection of an appropriate cage is a critical aspect of caring for African Grey Parrots.
African Grey Parrots are active and intelligent birds requiring sufficient space to move, stretch, and engage in natural behaviors.
A cramped cage can lead to health issues like muscle atrophy, obesity, and even psychological stress.
Therefore, the cage should be spacious enough to allow for free movement, wing-flapping, and space for toys and perches.
A properly sized cage allows for adequate movement, exercise, and enrichment activities, which are essential for maintaining a healthy and stimulated African Grey.
Recommended Cage Dimensions for Congo and Timneh African Greys
The recommended cage size varies depending on whether you have a Congo or Timneh African Grey, due to their size differences.
For Congo African Greys, the minimum cage size should be at least 40 inches in width, 30 inches in depth, and 60 inches in height.
This size accommodates their larger size and provides ample room for movement and exercise.
For Timneh African Greys, a slightly smaller cage can be sufficient.
A cage measuring at least 36 inches in width, 24 inches in depth, and 48 inches in height is recommended.
This size ensures that the bird has enough space to move, stretch, and play comfortably.
Minimum Size Requirements
If you aren't sure about measurements and numbers, don't fret.
The main thing to remember is that the cage should be large enough to allow for full extension of the bird's wings without touching the sides.
Ideally, the cage should be at least twice the wingspan in width.
If you are keeping two birds together in a cage, then the space should be more than double what I have recommended earlier.
This guideline ensures that the bird can exercise and move freely within its living space.
Considerations for Bar Spacing and Cage Features
The spacing between the bars of the cage is another important consideration.
The ideal bar spacing for African Grey Parrots is between 3/4 inch and 1 inch.
This spacing prevents the bird from getting its head or other body parts stuck between the bars.
The cage should also have horizontal bars to encourage climbing, which is a natural and healthy activity for these birds.
Importance of Providing Space for Wing-Flapping and Exercise
Adequate space for wing-flapping and exercise is vital for the physical health of African Grey Parrots.
These activities help in maintaining muscle tone, preventing obesity, and promoting overall well-being.
Keep in mind that the cage should also have space to accommodate various perches and toys to encourage movement and provide mental stimulation.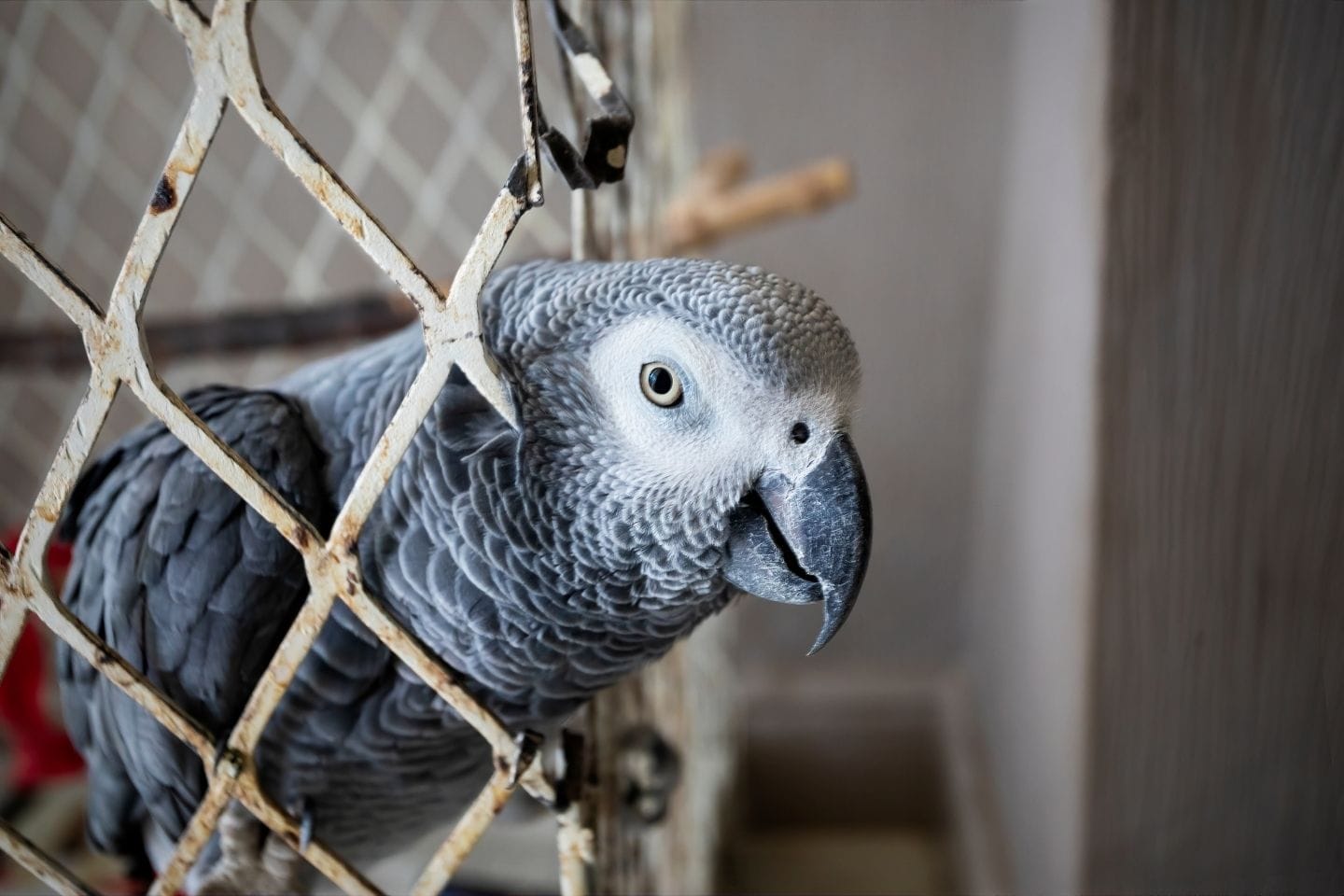 Cage Setup and Enrichment
Just buying the cage is not enough; proper cage setup and enrichment are crucial for the wellbeing of African Grey Parrots.
These intelligent birds require a stimulating environment that caters to their physical and mental needs.
A well-equipped cage must contain toys, perches, food and water dishes, ladders, and ropes at the very least.
Essential Items to Include in an African Grey Cage
Perches: Various types of perches of different sizes and textures should be provided. Natural wood perches are ideal as they help maintain healthy feet and beak. The perches should be placed at different heights and locations within the cage to encourage movement and exploration.
Toys: A variety of toys should be included to keep the African Grey entertained and mentally stimulated. These can include chew toys, bells, ropes, and swings. It's important to rotate the toys regularly to keep the bird's interest.
Food and Water Dishes: These should be placed at a comfortable height, easily accessible, but not directly under perches to avoid contamination.
Ladders and Ropes: These encourage climbing and physical activity, which are important for maintaining fitness.
The Need For Toys and Perches
Toys and perches are not just accessories; they play a vital role in the mental and physical health of African Greys.
Toys help prevent boredom and associated behavioral issues like feather plucking.
Perches of varying diameters and textures aid in foot health and provide necessary exercise.
The Role of Foraging Toys and Puzzles
Foraging toys and puzzles are particularly beneficial for African Greys, known for their problem-solving skills and intelligence.
These toys mimic the foraging behavior they would engage in in the wild, providing mental stimulation and helping to keep their minds active and engaged.
Foraging toys can be filled with treats or food, encouraging the bird to work for its food, which is a natural and healthy activity.
Puzzles can be used to challenge the bird and provide a sense of achievement and stimulation.
Out of Cage Time and Activities
Out-of-cage time is just as essential as the cage itself.
These intelligent and social birds require regular interaction and physical activity outside their cages to maintain their mental and physical health.
Out-of-cage time provides them with the opportunity to bond with their human family, explore their environment, and engage in physical activities that are not possible within the confines of a cage.
This time is crucial for preventing behavioral problems such as feather plucking or excessive vocalization, which can stem from boredom or a lack of stimulation.
Regular exercise during out-of-cage time is also vital for maintaining a healthy weight and muscle tone.
It allows the birds to stretch their wings, fly, and engage in play, which are natural behaviors that contribute to their overall wellbeing.
Suggestions for Safe and Stimulating Out-of-Cage Activities
When allowing an African Grey Parrot out of its cage, it's important to ensure the environment is safe and free from hazards such as toxic plants, open windows, or unattended electrical wires.
Here are some suggestions for engaging activities:
Interactive Play: Engage in games that stimulate the bird's mind, such as hide-and-seek with treats or mimicking games.
Training Sessions: Use this time for training your African Grey in simple commands or tricks. Positive reinforcement training strengthens your bond and provides mental stimulation.
Exploration Time: Allow your bird to explore a bird-safe room under supervision. Exploration satisfies their natural curiosity and provides mental stimulation.
Flying: If the space is safe and secure, encourage your bird to fly. This is excellent exercise and vital for their physical health.
Social Interaction: Spend quality time interacting with your bird. This can include talking, petting (if the bird enjoys it), or simply sitting together.
Foraging Activities: Create foraging opportunities outside the cage by hiding treats around a safe room or in special foraging toys.
Perch Areas: Set up designated perch areas outside the cage where your bird can safely observe its surroundings.
Conclusion
In conclusion, understanding the size of African Grey Parrots and providing them with an appropriately sized cage is crucial for their wellbeing.
The distinct size differences between Congo and Timneh African Greys necessitate slightly different cage dimensions to ensure adequate space for movement, exercise, and mental stimulation.
A cage that is too small can lead to physical and psychological issues, underscoring the importance of selecting a cage that accommodates the bird's wingspan and allows for natural behaviors such as climbing, flying, and playing.
The right cage, combined with a stimulating environment filled with toys, perches, and foraging opportunities, significantly impacts the quality of life for these intelligent birds.
Remember, the cage is not just a space for confinement but a home where the African Grey spends a considerable amount of time.
Ensuring this environment is spacious, safe, and enriching is a responsibility that comes with the joy of owning one of these remarkable parrots.