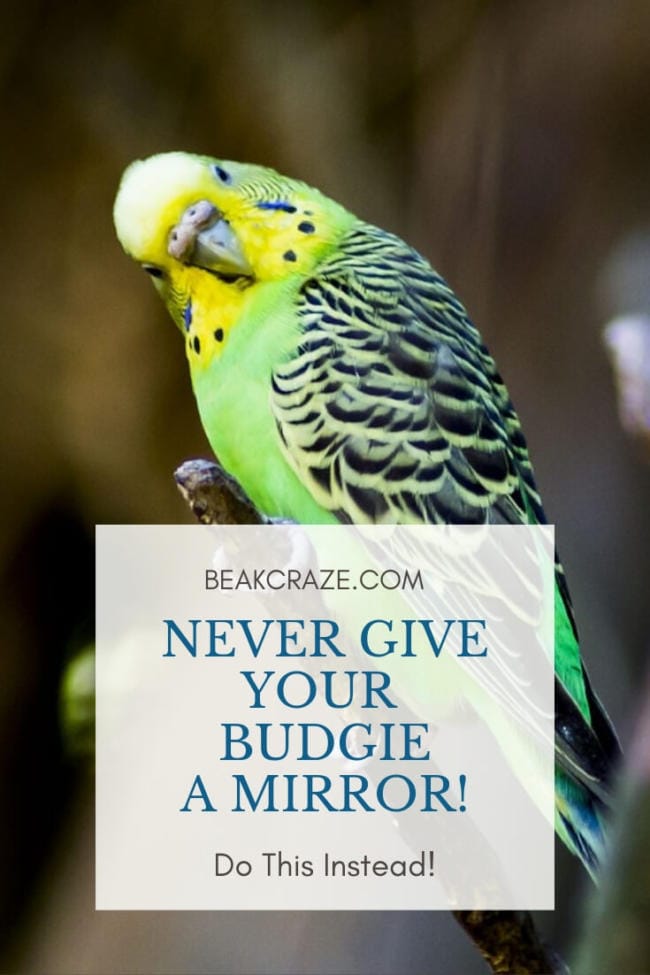 Is it a healthy option to get your budgie a mirror? There are some people who feel that perhaps they should do so to keep their budgie company.
Some budgies may seem to enjoy shiny objects and having a companion- even if the said companion is just their own reflection.
But why is giving a mirror to a budgie a bad idea? First of all, they may break the mirror attacking or just playing with it, and the result will be an injury. Another reason is that they may perceive it as a mate whom they would like to feed all the time or may get obsessed with. So, there are at least a couple of better solutions such as getting another one as a live companion or don't have any mirror all.
If you own a budgie, you probably already know that it is typically recommended to spend as much time as possible with your budgie.
If you can't due to work or other things going on in your life, then you should at least get your budgie a companion so they do not spend so much time alone. Some people think that getting a mirror would be a good idea, but unfortunately, it will do more harm than good.
5 Reasons Why You Should Not Give Your Budgie A Mirror!
Here are the reasons why giving your budgie a mirror is a bad idea and what you should do instead.
1. Your budgie might attack the mirror.
Budgies tend to be rather moody birds, so it is natural if your budgie thinks that the creature looking back at it in the mirror is another bird that it can interact with.
Unfortunately, your budgie is bound to get into fights with the new companion. During a moment of imagined play, your budgie might get into a disagreement with the mirror and get aggravated.
It might think that the bird looking back at it is a handsome male and will fight with it for dominance, for instance. This will naturally cause psychological stress for your budgie because it will not be able to realize that it is simply looking at a reflection of itself.
It might even feel that the budgie in the reflection is invading its private space and will feel the need to defend itself. There is no need to put this unnecessary stress on your budgie.
2. The budgie will attempt to feed the mirror.
Once again, budgies are very sociable creatures. Your budgie might see that the bird in the reflection is its friend or even its mate and will attempt to feed it.
This can lead to serious health issues because your budgie might feel the need to throw up its food constantly to feed its companion in the mirror.
When it sees that the budgie in the mirror has not accepted its offer of food, your budgie will then eat it again. When this happens, it will vomit the food up again, resulting in an unending cycle that will lead to serious throat irritation.
While you may think that this happening only a few times will not lead to any harm, your budgie is likely to turn this into a habit that will naturally not allow it to feed normally, causing it to lose weight and become sick.
This will eventually lead to throat irritation from consistent vomiting.
3. Your budgie can become obsessed with the mirror.
What may have seemed like a harmless form of enjoyment has now turned into an obsession. Your budgie might believe that the bird in the mirror's reflection is its mate and will refuse to go anywhere without it.
It might refuse to come out of the cage or to spend time with its owner. This is especially dangerous because your budgie will not be able to get the social interaction or fresh air that it needs.
Whether it is a person or an animal, becoming unhealthily obsessed with something can lead to health issues, too. If the budgie thinks that the bird in the reflection is its mate, it may attempt to mate with it, which will obviously be unsuccessful.
Or, it will, once again, vomit up its food in order to feed its mate. This can again lead to severe weight loss, and refusing to spend time with a real companion (you as its owner, or anyone else who spends time with it) will also lead to psychological issues.
So, avoid putting a mirror in your budgie's cage.
4. Your budgie can become more aggressive.
Your budgie might become more aggressive due to the mirror. While we have already covered the possibility of your budgie attacking the mirror itself, thinking that it is attacking another budgie, now we are referring to your budgie attacking you.
Your budgie will become very defensive of the other bird in the mirror.
Many people have found that, after giving their budgie a mirror, when they approach the mirror, the budgie will viciously attack and bite them.
The budgie will isolate itself from you and will become upset and aggressive if you attempt to come near it or take away its 'companion.' It is important to remember here that budgies are not naturally aggressive birds.
If your budgie suddenly becomes aggressive, then that means that something is not quite right. (I have written an entire article about that and if you are facing problems with sudden aggression, you should definitely read it here.)
Definitely do not allow your budgie near a mirror or reflective surface because it is likely to become more aggressive towards you, and it will become more withdrawn.
5. The mirror is breakable.
And finally, this is something that you may not have previously thought of, but it is important to consider if you were thinking about getting your budgie a mirror.
Birds naturally will not understand that mirrors are made of glass and are, therefore, breakable. Your budgie will likely jump on it, pick at it, and bite it.
If the mirror breaks, then your budgie could end up in pain- or worse. There are also mirrors not designed for birds which can have harmful chemicals on the backing, which will hurt your budgie when it pecks at the backing.
The mirror may become dislodged from where you put it, which could hurt your budgie if it falls, and of course, it may break if it falls as well.
Therefore, it is not a great idea to have a mirror in your budgie's cage because it could pose a safety threat too.
What To Do Instead? The 3 Best Solutions
So now you may be thinking, what do I do? You have work, school, you have to spend time with the kids, you have to take care of your parents, etc. and barely have time for yourself.
Sometimes life's responsibilities get in the way and do not allow you to spend the proper amount of time with your pet.
1. Be a human partner for your budgie
First things first, if you feel that you cannot allocate the proper amount of time to spend with your pet, whether it be a budgie or anything else, then it is best for you not to get one.
We know it sounds harsh but just like children, budgies and all pets require care and attention. Your budgie particularly depends on the help of a human if it is a single bird.
It is entirely possible to keep a lone budgie, but only if you know that you will be able to care for it and spend the necessary amount of time with it.
You have to feed it, take it out of its cage, allow it to socialize, and buy it the proper toys (we will come to that in a second). If you do not feel that you can do this, then don't get a budgie, and especially do not get your budgie a mirror.
2. Get Other Toys – The obvious one
Obviously, getting other toys than mirrors totally makes sense as budgies are very playful and curious birds. There are tons of toys you can get for your budgie but just like mirrors, not all of the toys you can find online or in a pet store are suited for budgies.
We will show you below 15 toys that are awesome for budgies but we wanted to name the two best toys for smart birds like budgies right away:
2.1. Foraging Toys
Keeping your budgie happy also means keeping your budgie busy. And that does not only mean physically busy but also mentally busy – in a positive way!
As you already know, budgies are extremely intelligent and every intelligent creature needs (positive) mental challenges. Foraging toys offer exactly that.
You can fill them with treats your budgie loves most and your budgie will be busy figuring out how to get to the treats.
This foraging toy is an awesome example and it has the perfect size for budgies – have a look at it here!
2.2. Get a bird playground
Bird playgrounds offer a variety of things to do for your budgie. Chewing, climbing, and exploring – that is what your budgie needs and loves.
With all the ladders, swings, ropes and chewables, a bird playground provides all of these things, plus you can even make a playground more interesting by attaching some treats for your budgie like millet to the playground.
Besides that, you can use this playground not only outside of the cage. If you have a big birdcage and a rather shy budgie, you can even place this playground inside the cage. Some playgrounds can even be mounted to the cage top.
We recommend getting the following playgrounds:
This a playground that can be mounted to the cage top which means that this playground is also suited for more shy budgies.
In fact, this can even help to tame and to calm down budgies that do not want to come out of their cage. A playground like this one – maybe even with a treat attached to it, often is too tempting even for a shy budgie.
It offers bells, ropes, swings, chewable toys, and shiny objects budgies love so much. Have a look at this playground here!
We have already told you what makes those playgrounds so great, however, this playground takes it even further by promoting healthy budgie feet.
The playground is made of natural wood material which means that your budgie has a lot of branches with different diameters to climb and stand on. It features ropes, swings, and ladders – and there is enough space to add a bell and some treats!
Have a look at this playground here!
Offer a variety of toys
Budgies are incredibly smart birds and if they have to play with the same toy each and every day, they get bored. While that doesn't mean that you have to get 100 toys for your budgie and switch them out hourly, you should definitely offer some variety from time to time.
We have created an article on toys that are perfectly suited for budgies.
They have the right size, they are non-toxic, they provide tons of fun, and there is no risk of any injuries due to sharp edges or something similar – believe it or not, a lot of pet toys are actually not really suited for pets.
Have a look at our article on the best 15 toys for budgies here!
However, there is another, better solution, that will allow you to take care of all the necessary responsibilities and that will allow you to have a budgie.
3. Get another budgie! Probably the best solution
It's really that simple. You might not think that this will be effective, or you might think that this means more work for you.
But it really isn't.
Budgies are sociable birds and enjoy having companions. Having a mirror will never compare to having a live companion.
Having a companion will allow your budgie to be healthy, happy, and develop the social skills it needs- just like it is important for you to socialize with your friends.
Did you know that budgies even grieve?
Your budgie will also not need to rely on you as much, because budgies are flock birds. If your budgie has a companion, they will spend their time together, and establish healthy habits that do not include vomiting up food or becoming obsessive.
If you ever happen to need to go on a trip, go to work, or take care of other business, you will not need to worry about what your budgie will do since it is alone.
Your budgie will naturally pay more attention to its companion than to you, which will also allow you to be able to leave it alone in peace.
As with any pet, you need to make sure that you are doing everything possible to keep your budgie happy and healthy.
While some may suggest that you get your budgie a mirror, this will do much more harm than good. When getting a budgie, always consider getting it a companion instead!