Budgies make for lively companions as pets. A tamed budgie is even better!
How long does it take to tame a budgie? Taming a budgie takes anywhere between three days to four weeks. Every budgie is different and how quickly it can be tamed depends on a lot of factors such as its inherent temperament, its previous experience with humans, etc. Some budgies might be too shy due to some unpleasant experience with people in the past, while some others might quickly adapt to having people around. However, it won't happen overnight.
It requires time, lots of patience, and consistency.
The following article will make it way easier for you to tame your budgie. Have fun and remember – be patient.
Steps for Taming a Budgie
Below is a step by step process to tame your budgie.
Step 1: Let the budgie settle in
This step is especially important if your budgie is new. Before you attempt to tame it, let it get accustomed to its new surroundings.
Let the budgie be in a place where it can see the people in the house most of the time. This helps it to understand that humans aren't dangerous and it gets comfortable having people around.
However, keep the cage near a wall so that it has a safe place to retreat if it gets uncomfortable. Also, keep the cage at eye level so that there is no frequent movement from above the cage.
Budgies get all worked up when they have things moving over their head.
Once your budgie gets used to its new surroundings, the taming process can be started. Give the budgie about two weeks to settle in.
Step 2: Start interacting with the budgie
When the budgie has settled in its new home, you can start by just holding your hand out and placing a finger on the cage. When you do this, talk to the budgie in a calm, soothing voice.
Don't move your hand too much and keep the movements slow so as to not frighten the bird. Budgies are very social birds and they will soon start recognizing your voice and seeing your hand as a non-threatening object.
Do this for about 15 minutes several times a day. At first, the budgie might look scared and stressed when you are too near the cage.
But, soon, you will find that it is more relaxed and comfortable when you talk to it and even responds with chirping back at you! This could take about a week's time.
When this happens, it means you are ready for the next step.
Step 3: Put your hand inside the cage
Take your taming session to the next level by putting your hand inside the cage. Keeping talking to the budgie in the same soothing voice. Just keep your hand inside the cage where the bird is, but don't go too near if it appears frightened.
The idea is to make it comfortable to be near your hand, not to force it to get used to it. Again, don't move your hand too much and be patient.
Even if the bird flutters around in the cage, don't move your hand. Be patient and keep your hand as still as you can.
Do this consistently for about 15-20 minutes a few times a day until the budgie no longer appears to be scared by the presence of your hand inside the cage.
If you are afraid of getting bitten by your budgie, you should read this article.
Step 4: Offer food from your hand
Offering a treat to your budgie and letting it eat from your hand is a sure way to make your budgie trust and like your hand. Most budgies love spray millet, but if your budgie is fond of some other treat, go with it.
Put your budgie's favorite food on your hand and place your hand inside the cage where the budgie can easily reach it, for instance near a perch.
Keep your hand very still and let the budgie eat from your hand. The budgie might want to sit on its perch and eat from your hand.
But once it gets more comfortable, you will find that it readily sits on your hand to eat. However, be patient and don't forcefully go near the budgie or grab it at any point.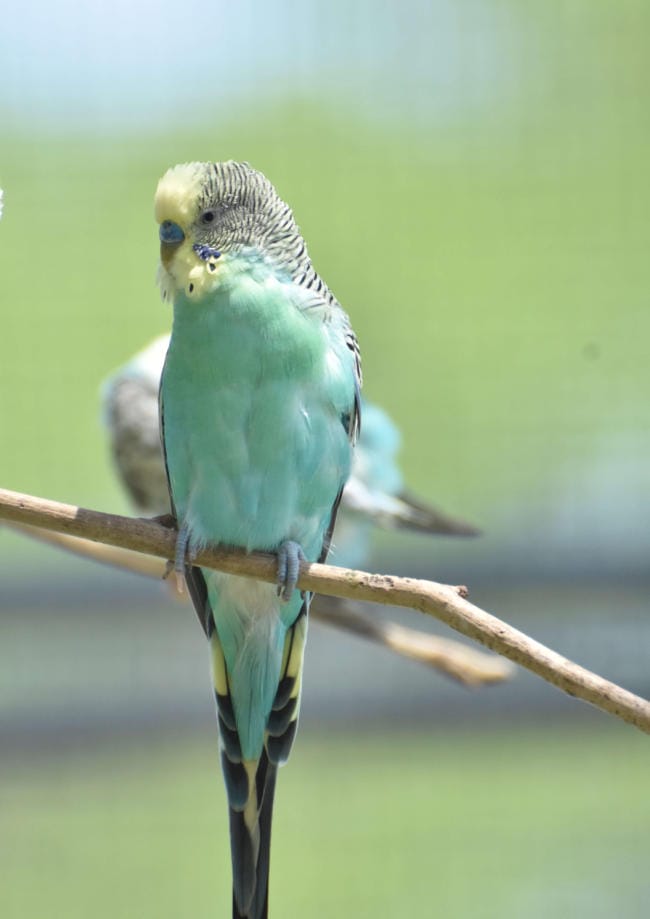 Step 5: Start finger training
Once the budgie is comfortable having your hand inside the cage, it's time to introduce your finger as a perch to it. Put your finger out in front of the budgie and keep still.
If it does not readily step up on your finger, gently press your finger against the bird's chest just above its feet to encourage it to perch on your finger.
Also, repeat 'step-up' or 'climb' or any similar word when you want it to step up on your finger. It will soon start associating the word with what you want it to do.
Don't worry if the budgie initially flies away from your finger; be persistent.
Step 6: Bring it out of the cage
Once the budgie starts perching on your finger on cue, it's time to bring it out of the cage while sitting on your finger.
Move your hand out of the cage very slowly and introduce the world outside the cage to the budgie. If it wants to immediately fly back inside the cage, that's okay.
Give it some time and try again. If it's exceptionally shy and is reluctant to come out of the cage, try to bribe it with a treat every time it comes and stays out of the cage for a little while.
Step 7: Offer a treat in a different room
The next level of taming is to let your budgie know that other parts of the house are safe too. So, take it to another room in the house and offer it a treat there.
However, make sure the room is clean and there are no potentially dangerous objects such as a whirring fan or an active fireplace in the room.
Once you successfully take your budgie through the above steps, you will have a pet that readily comes and perches on your hand or shoulder and eats out of your hand!
Of course, you should know what treats a budgie likes best to make it more effective. Read our article here to learn what the best treats for budgies are! (No need to spend a lot of money on treats, by the way!)
Tips for taming your budgie
Below are a few tips to make taming your budgie easier.
Building trust with your budgie is very important. If at all during the taming process, or even after it, you forcefully grab the budgie or frighten it in any way, you have to start the trust-building process all over again.
The budgie is a prey bird. If you directly look into its eyes, it will view you as a hunter and will resist the taming. So, even when you are talking to the budgie, avoid direct eye contact as much as possible.
A budgie that is too young cannot be tamed. A budgie is weaned from its parents only at about six weeks after which it starts feeding and drinking on its own. You can start taming it only after this time.
Always talk to the budgie in a soothing voice and make sure your hand movements are slow and gentle. However, avoid baby talking. The high pitched voice may sound threatening to the budgie.
When you let the budgie out, make sure all doors, windows, vents, etc. are closed. Also, cover any mirrors and pull the curtains over windows to avoid crashing accidents. Don't have other pets such as cats or dogs in the room.
If you see signs that your budgie is tense or stressed during taming, don't push it. Back away and start over after some time.
During initial phases of taming, the budgie might bite your hand when it is too close for comfort for the budgie. Don't shout or react very strongly. Ignore the bite and move your hand out slowly.
Conclusion
Taming a budgie is not exceedingly difficult. However, you need lots of patience and consistency.
Results of taming may vary from bird to bird.
If your feathered pet has had a pretty bad experience with people in the past, it may resist your touch and make taming tricky. Remember to enjoy the taming process and don't get disheartened if it takes more time!