The Night Parrot (Geopsittacus occidentalis) is a small broad-tailed parrot that endemic to interior and northern Australia.
The secretive night parrot is nocturnal (active at night, sleeps during the day), and terrestrial in nature (spends most of its time on the ground), taking to the air only when panicked or in search of water.
Description
The Night Parrot averages 23 cm or 9.2 inches in length.
Its plumage is mostly yellowish-green, mottled with dark brown, black and yellow markings over most of its body. The lower belly and under tail coverts are yellow. There is a pale yellow stripe through the middle of the wing.
The Night Parrot is similar in appearance to the Budgerigar, except that it is larger in size and has a shorter tail.
It somewhat resembles the Ground Parrot (Pezoporus wallicus) of southeastern and southwestern mainland and Tasmania, except it has a shorter tail and shorter, straighter claws on the toes. Additionally, it lacks the orange band on the forehead across the base of the upper beak.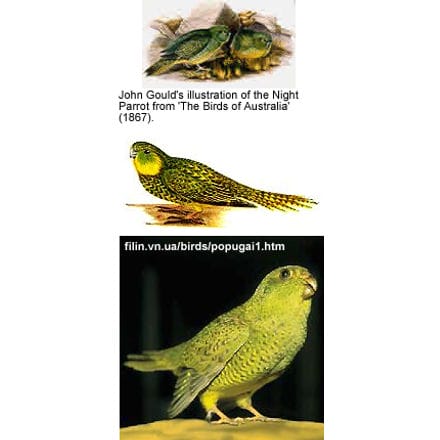 Distribution
Its preferred habitat is said to be the spinifex grass which can be found over most of the dry, dusty Australian interior. Other early reports indicate that the night parrot never strayed far from water.
Sightings since 1979 have been extremely rare and the bird's population size is unknown. Its rediscovery in 1990 revitalized hopes of its continued survival, but the species' habitat requirements and the threats to its conservation are still unknown.
The last authenticated report occurred in 2006, when rangers found a dead specimen which had flown into a barbed wire fence in the Diamantina National Park in south-western Queensland.
The earlier reliable sighting in 2005 involved three night parrots near Minga Well, in the Pilbara region of Western Australia.
Reliable sightings were made in 1990 when a road kill specimen was discovered by scientists in a remote part of Queensland and 1979 when Ornithologist Shane A. Parker from the South Australian Museum spotted an apparent flock of the birds in the far north of South Australia.
Night Parrots have been reported from every state on the Australia mainland. Apparently suitable habitat occurs across most of the inland, covering at least half of the continent, although records are sparsely distributed through this area.
The population size of this species is not known. Until recently Night Parrots were presumed by many to be 'technically' extinct. 
However, some authorities list its current status as 'uncertain'. The latest edition of the Action Plan for Australian Birds has amended the conservation status of the Night Parrot from the Insufficiently Known to Critically Endangered.
Birdlife International and the IUCN Red Book also list this species as critically endangered. It is included on Appendix I of the Convention on the International Trade in Endangered Species (CITES), the category of greatest protection.
Breeding / Nesting
The breeding period of this species is mostly unknown and it is believed to be dependent on food supply.
They typically nest in a chamber within spinifex grass clump, 25 cm (10 ins) across reached through tunnel 8 cm (3 ins) in diameter.
The floor is lined with leaves, grass stalks and small.
The average clutch size is 4 to 5 eggs. An egg measures about 25.2 x 19.6 mm (0.99 x 0.77 ins).
The night parrot is mostly unknown in aviculture and have only been kept on a few occasions. They did not survive long.
Habitat
Night Parrots can be found in arid zone in areas where there is dense, low vegetation, which provides them shelter during the day.
Most records come from hummock grasslands with spinifex (porcupine grass, Triodia) or from areas dominated by samphire.
It has been suggested that birds move into the grasslands when Triodia is seeding. They have also been reported in low chenopod shrublands with saltbush and bluebush, and from areas of Mitchell grass Astrebla with scattered chenopods.
Many records have come from waterholes, and almost all reports from areas of Triodia have noted the presence of nearby water.
Sources: Queensland Museum, Australia, and Wikipedia.
Taxonomy:
Genus: Scientific: Geopsittacus … English: Night Parrots … Dutch: Nachtpapegaaien … German: Nachtsittichen … French: Perroquet nocturne
Species: Scientific: Geopsittacus occidentalis aka Pezoporus occidentalis … English: Night Parrot, Spinifex Parrot … Dutch: Australische Nachtpapegaai, Nachtparkiet … German: Nachtsittich, Hölensittich … French: Perroquet nocturne
More Parrot Information