The Papuan Lorikeets or Mount-Goliath Lorikeets are endemic to New Guinea / mountains of Vogelkop Peninsular, Irian Jaya, in Indonesia. They are listed as an endangered species (Cites II).
Description
Papuan Lorikeets average 42 cm (16.5 inches) in length. The wing length is 130 – 145 mm (5 – 5.75 ins).
Male: Papuan Lorikeets have both a red and melanistic (black) color phase. In the melanistic phase the red feathers are replaced by black ones.
In the melanistic variety, the general plumage is red. The back and wings are dark green. There is a black patch on the back of the head streaked with blue at the front edge. There is a narrow black band across the back of neck.
The lower back and upper tail-coverts have a blue patch.
The abdomen and thighs are blackish. There are small yellow patches on the sides of the breast and larger ones on the lower flanks. The tips of the primary feathers are slightly elongated.
The upperside of the tail is green. The underside is greenish-yellow. Two middle tail-feathers are very elongated and yellow tipped. The tail is about 200 – 252 mm (8 – 10 inches) long.
The narrow eye (periophthalmic) rings are pale grey and the irises are orange. The feet are orange-flesh colored and the beak is orange to orange-red.
Females look like males, but the yellow patches on the sides of the flanks are usually not so extensive. The reddish tinge in this area cited in some recent literature is not indicative of the gender.
Juveniles / immature birds have generally a duller plumage. The breast and nape (back of the neck) feathers are interspersed with black and the abdomen with bluish-green. The undersides of the secondary feathers have a variable yellow band. The tips of the primary feathers are not elongated and the middle tail-feathers are not so markedly longer. The bill, irises and feet are brownish.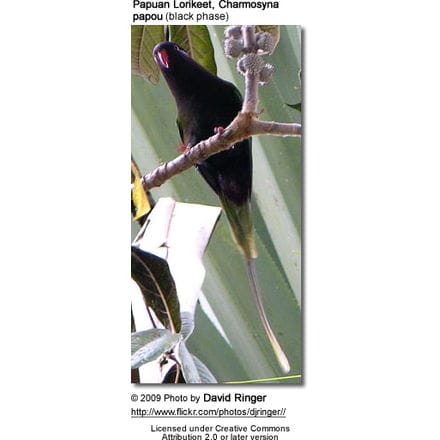 Sub-species:
Papuan Lorikeets as Pets or in Aviculture:
Due to their endangered status, any suitable specimen that cannot be released back into their natural habitat (native range) should preferably be placed into a well-managed breeding program to ensure the continued survival of this species.
Taxonomy:
Family: Loriidae
Genus: Scientific: Charmosyna … English: Honey Lorikeets … Dutch: Honingpapegaaien … German: Zierloris … French: Loriquet de miele
Species: Scientific: Charmosyna papou papou … English: Papuan Lorikeet … Dutch: Papoea Lori … German: Papualori … French: Loriquet Papou
Sub-Species / Races Including Nominate: papou, stellae, goliathina, wahnesi
---
Other Relevant Web Resources
---
Sub-species:
Wahne's Lorikeets:
Distribution: Mountains of Huon Peninsula
Family: Loriidae
Genus: Scientific: Charmosyna … English: Honey Lorikeet … Dutch: Honingpapegaaien … German: Zierloris … French: Loriquet de miele
Species: Scientific: Charmosyna papou wahnesi … English: Wahne's Lorikeet … Dutch: Geelborst Stella Lori … German: Wahnes Papualori … French: Loriquet Huon … CITES II – Endangered Species