The Rainbow Lorikeet (Trichoglossus haematodus) is a parrot common to the eastern seaboard of Australia, ranging from Queensland to South Australia. It is also found around northwest Tasmania. Its habitat is rainforest, coastal bush and woodland areas.
Forshaw recognizes 21 sub-species of this group, the most common of which is the Green-naped Lory. Not all sub-species are found in captivity and fewer still in the pet market. They come from New Guinea and the surrounding islands.
Description:
Rainbow lorikeets grow to 25-30cm in size, with a wingspan of about 17cm. Their eponymous markings are particularly striking: a dark blue head and stomach, a bright green back, tail and vent, and a red breast and beak.
Juveniles can be identified by their black beaks which over the next year gradually brighten to orange (the adult beak-color).

Rainbow Lorikeets and Humans
As with any parrot, ownership of lorikeets must not be taken lightly. Captive lorikeets have a long lifespan, often in excess of 20 years. Their diet makes them particularly messy; they are well-known in aviculture for their messy, liquid droppings and energetic nature. Captive-bred rainbow lorikeets are legal to own in Australia. Talking Ability (compared to other species)
In many places wild lorikeets are so used to human campers and visitors that they can be hand-fed. The Currumbin Wildlife Sanctuary in Queensland is noted for its numerous lorikeets, which number in the thousands. Around 4pm each day the birds gather in a huge, noisy flock in the park's main area.
Visitors are encouraged to feed them a specially-prepared nectar, and the birds will happily settle on arms and heads to consume it. Rainbow lorikeets can also be hand-fed by visitors at Lone Pine Koala Sanctuary in Brisbane, Queensland, and in many zoos and animal parks outside Australia.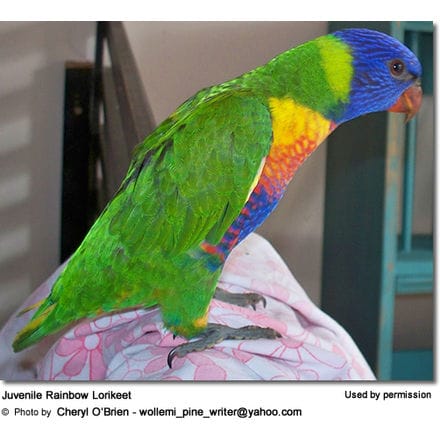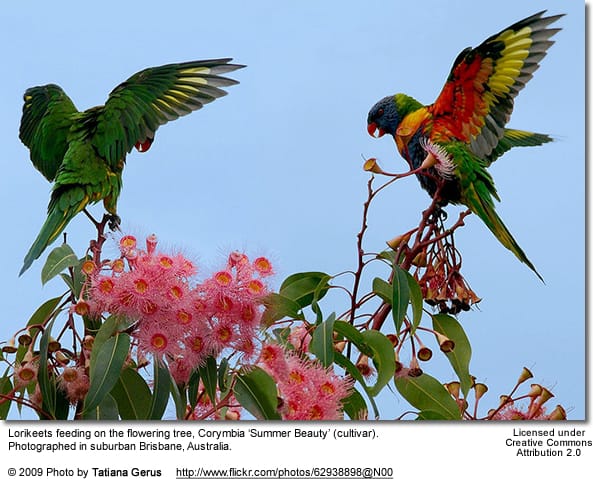 Caring for your Lory:
Diet:
In the wild, Rainbow lorikeets feed mainly on pollen and nectar, and possess a tongue adapted especially for their particular diet. Many fruit orchard owners consider them a pest, as they often fly in groups and strip trees containing fresh fruit. They are also frequent visitors at bird feeders that supply lorikeet-friendly treats, such as store-bought nectar, sunflower seeds, and fruits such as apples, grapes and pears.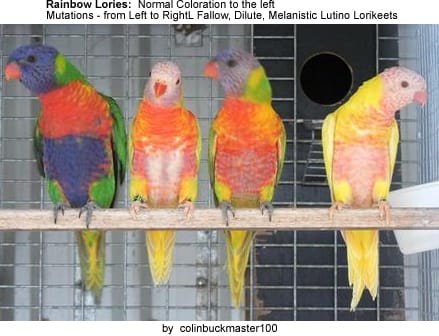 Reproduction / Rainbow:
Breeding usually occurs during spring (September to December in Australia and March through June in the U.S.), and in the wild, mated pairs nest in eucalypt tree hollows. In captivity several striking mutations have occurred.
---
Other Relevant Web Resources
---
Taxonomy:
Family: Loriidae … Genus: Scientific: Trichoglossus … English: Wedge-tailed Lorikeets … Dutch: Wigstaartlori … German: Keilschwanzloris … French: Loriquet
Species: Scientific: Trichoglossus haematodus haematodus … English: Rainbow Lorikeet, Green-naped Lory … Dutch: Regenbooglori, Groenneklori … German: Breitbinden Allfarblori … French: Loriquet à nuque verte … CITES II– Endangered Species
Distribution: Buru, Ambon / Amboina, Seram, Seram Laut, Goram, Watubela Western Papuan Islands, Islands in Geelvink Bay, Western New Guinea, Kai Islands (also known as Kei Islands) – found in the south-eastern part of the Maluku Islands in Indonesia.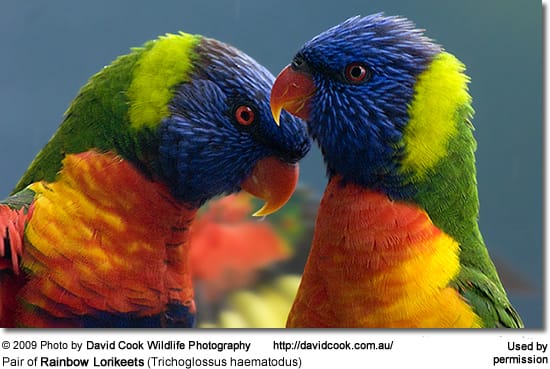 ---