---
Useful Information: Breeders' Resources (covers everything from handfeeding to potential breeding / chick problems) … Incubation Information … Information on Housing Chicks, Temperature Requirements, etc.
---
To Buy:
Larger Units:
TLC-50 Advance Chick Brooder- Please scroll down for info and to order …
Standard Smaller Units:
Available over our

Secure Online Store

– or order over the phone:
1-888-354-4666
---
Tough, efficient, easily cleaned and quick to set up, the TLC-50 Advance Parrot Brooder features:
Accurate digital temperature control adjustable through an easy to use menu
Unique air filtration for removal of airborne bacteria and fungi from the chamber (filter replacements available).
Removable clear door and immersible lower half of the cabinet with smooth, mirror finish interior for easy cleaning.
Water reservoir with top up to reduce the risk of dehydration.
Adjustable fresh air exchange through a door mounted vent.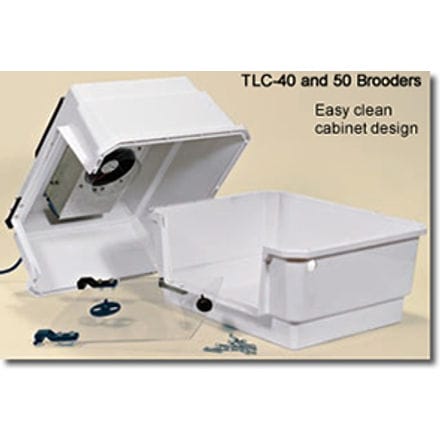 PLUS
Audible and visual high and low temperature alarms
Digital display of the humidity level achieved in the chamber.
Switchable internal light
The Humidity Pump can be fitted to provide fully automatic humidity control. Please note the humidity pump is not included and needs to be purchased separately (please refer to below).
Internal dimensions: 23.5″ wide x 15.5″ deep x 15″ high. For smaller units see the TLC-40 Eco or TLC-40 Advance.
Available over our

Secure Online Store

– or order over the phone:
1-888-354-4666
---
The Octagon TLC brooders are manufactured under ISO9002 quality assurance, which is independently assessed to ensure consistent and reliable production..
Note: In order that we can continue our policy of innovation and improvement we reserve the right to alter specifications without notice.
---
Optional Accessories:
Humidity Pump
Continuous accurate control, water metering and direct display of current condition in % Relative Humidity

Warm air at brooding temperature can result in dehydration of the hatchlings so the TLC-40 and 50 incorporate a water reservoir over which air is circulated to increase humidity within the chamber. The water reservoir is filled from outside the unit and is clear, allowing the user to monitor the water level. The reservoir contains white evaporating block to help increase humidity and these blocks are available. The water reservoir is removable for cleaning. The low weight of the TLC-40 and 50 make them easy to carry.
Available over our

Secure Online Store

– or order over the phone:
1-888-354-4666
---