The EcoGlow brooder is a clean, safe, tough and extremely economical chick brooder with a a highly efficient low cost heating system. Designed for newly hatched (poultry) chicks to keep them snug and warm and your electricity bills low.
Clean, safe, tough and extremely economical chick brooder that is suitable for any poultry, waterfowl or gamebird chicks.
Available Models:
EcoGlow 20 Chick Brooder – ideal for up to 20 chicks or ducklings

Dimensions: ~ 12 x 7.9 x 8.3 inches (31 x 20 x 21 cm) high
The EcoGlow 20 only uses 18 Watts (a tenth of the electricity of typical suspended infrared lamps)

The larger EcoGlow 50 – ideal for up to 50 chicks or ducklings.

Dimensions: ~ 22 x 16 x 9 inches (56 x 41 x 23 cm) high
The EcoGlow 50 is rated at a nominal 50 watts. It is far more efficient than conventional infra red lamps and is safer as well since it runs from 12 volts from a mains transformer (supplied)
Features
Please note that this brooder is not suitable for exotic species, such as parrots or birds of prey (particularly when they are young – okay for older, feathered chicks). These kind of birds require precise temperature control – as can be provided by a TLC Brooder.
Different sizes of chicks are accommodated by three adjustable height settings (please refer to below images).
The EcoGlow uses a radiant heat source designed specifically for precotial chicks (chicks that are born relatively mature and mobile from the moment of birth or hatching, with protective feather down), such is the case with poultry, game or waterfowl. These birds are mobile from day one and will find their comfortable temperature zone provided there is space for them to move closer to or further from the source.
An indicator light confirms the brooder is connected.
The EcoGlow brooder top can also be used to keep your breeder or pet birds warm. For this purpose, you would place it on the side of the cage where the perches are attached so that they can nestle close to it whilst on the perch. Note: Placing the EcoGlow on top of the cage would not be as effective.
Available over our

Secure Online Store

– or order over the phone:
1-888-354-4666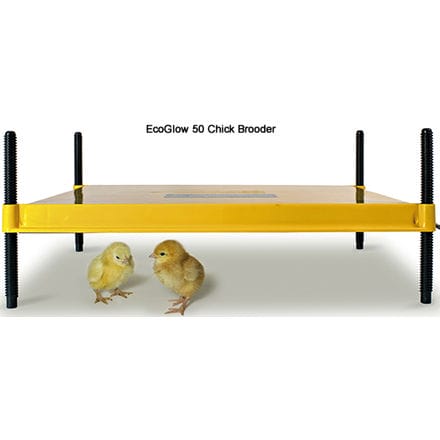 ---
Chick Brooder Plastic Enclosure to confine young chicks, pheasant, quail and other gamebird or ducklings, waterfowl, etc.
For use with the EcoGlow chick brooder or any floor or lamp brooders to confine young chickens, ducklings, quails, etc.
This chick brooder enclosure comprises a set of 8 plastic panels which interlock to form an enclosure about 34″ (860mm) in diameter.
Hygienic – easy to clean.
Ideal for use with EcoGlow Chick Brooder
Great for hatching in the classroom.
Available over our

Secure Online Store

– or order over the phone:
1-888-354-4666