Housing Your Bird and Setting Up Your Bird Cage:
---
Cages / Aviaries:
Cage Info: What Type of Cage? … Cage Safety
For Do-It-Yourselfers:.
Cage Lining / Cage Substrate – What to Put at the Bottom of Your Bird's
Cage
Aviaries: Aviary Photos / Set-ups … Housing Pheasants and Other Outdoor Birds – has some nice photos and useful guidance
Protect Your Carpet and the Walls from Food Splatters: Birds have messy eating habits. Some species more than others; such as lories / lorikeets that are on a nectar / fruit diet; but many birds can make a mess when eating. You might see food spatters at the wall or on the floor around the cage and they tend to be difficult to clean. If this is a problem then my recommendation is to buy clear vinyl panels or plexi glass and drill holes in them for the screws, string, or self-adhesive velcro to attach the panels to the side of the cage. In the past I found some nice (shower?) hooks that worked great. You can get inexpensive panels at Home Depot or at Wallmarts. I bought mine at Home Depot and they have cutting machines that people can use to cut the panels to the right size. For the floor I used square chair mats available also at Wallmarts, Office Depots. It protects the carpet / flooring and is easy to clean. You can take the mat outside, if you like, and hose it down. A little soaking and any dirt comes off easily.
Bird Rooms: A lucky bird is one with his or her own room. If you are able to provide a birdroom, it's important to make sure it is easy to clean and maintain. Tiles for the floor and maybe even the walls are a great solution. However, if you would like to provide some "atmosphere," painting the room in fun colors will achieve that. High gloss latex-based paints work great as they are long-lasting and easy to clean. The high gloss allows you to mop the walls, if needed without peeling paint off. Do make sure to air the area out thoroughly during and after the painting. You can put the birds back after any fumes have dissipated (you shouldn't be able to smell anything). Some bird people also used Sherwin Williams high gloss paint without trouble – but, to be on the safe side, they recommend waiting a couple of weeks with the windows open before allowing the birds to be allowed into the room! Sherwin Williams and Glidden also sell an eco-friendly "low voc " paint, which dry quickly and produce little to no smell at all. These paints are recommended as non toxic and safe for people with respiratory problems, babies and nurseries. Just be sure to get the eco spec primer too. To be on the safe side, it's best to paint the room with the window open. One bird person reports that his birds slept in the freshly painted room the same night without any problems. A bird-loving painter recommended eggshell satin as it is easy to wash, has a light sheen, lasts a long time and "takes a beating." He uses "Glidden Paints." It's best to paint in the spring, summer or fall – when you can leave the windows open without your birds getting chilled. Some people paint elaborate murals of rainforests in these rooms, which are amazing and beautiful — and I dream of being able to afford it SOME day 🙂 … Mind you, if you are more artistic than myself go for it! It can be a fun project if the family participates. At arts and crafts stores you are able to find a lot of "cut-outs" of fun motives and all you have to do is paint over them and pull them off. It's a lit like "painting by colors."
Learn more about "non-toxic paints."
A wonderful, cost-effective alternatives to murals are tatouages. Reproduced from original art work, wall stickers made by "Walls of the Wild" are not only  beautiful but also rich and vibrant in color. Choose from wild birds, jungle animals, dolphins and dinosaurs up to sizes up to 80″ tall. Can be used in tubs, showers and outdoors – or bird lovers have been using them in bird rooms! Another low-cost option one of the web visitors came up with was to stick centerfolds from Bird Talk magazines with them, covering the entire walls with them. They said the project came out great. The good thing — you can easily replace them when they get dirty. Laminating them maybe another option. This way they become washable. High-gloss laquer from Home Depot may do the trick as well. Do make sure it's non-toxic (usually it says "child-safe"). After application of any paint, including high-gloss laquer, requires plenty of airing before allowing the birds back into the room.
---
Perches: Perches can be made from:
Rope (a lot of fun for birds and easy to install – )
Wood (manzanita and madrone, maple, and apple wood – please refer to: safe wood for perches)
PVC (check for toxicity – plumber's grade PVC is said to be safe!)
Acrylic, like Plexiglas – but these should be sanded slightly to roughen up the otherwise slick surface
Sandy and Concrete Grooming perches help keep beak and nails in trim.There are even heated perches to help senior birds through a cold spell or to relieve arthritic discomfort.
---
Watering Systems: I personally don't like water bottles and other such watering devices. My birds like to bathe and I am also worried about them getting blocked and my birds not getting water – the leading cause of captive bird death. I prefer to use the traditional water dishes, which are also easier to wash / disinfect.. I have twice as many water dishes as I need and put them in the dish washer every day, which is easy enough. However, many breeders prefer to have watering devices – and if you have many birds, maybe that is the way for you to go.
---
Lighting: Full Spectrum Lighting
---
Heaters / Heating Systems (to heat rooms / areas) – make sure that they are bird safe (many of them contain non-stick coating / Teflon)
Brooders – for the really little ones, the only way to provide controlled warmth for each stage of the chick's development
Heat Lamps – provide heat when temperatures are chilly or when sick birds need additional warmth.
HEATING OPTIONS (for both Baby Birds and Convalescent Adult Birds):
Simple instructions to Build Your Own Brooder … Warning: Teflon / Non-stick Coated Heating Lamps!!! … Salamander Ceramic, Quartz, Metal and Flat Faced Panel Electric Infrared Heating Elements Emergency Heat! How to survive during power outages and severe weather conditions. In addition to providing tips that will help you keep your family warm inside; there are also recommendations for your outside flights and chicks.
---
Air Quality: Stagnant and uncirculated air acquires unhealthy contaminants / environmental toxins from various sources, including ground radiation, fungi, bacteria, bird dust, decaying food, feces, and by-products of electric appliances, such as heaters, fans, and lights. Toxins will directly or indirectly cause health problems and lower production. Ventilation helps regulate the air quality, humidity and temperature.
Controlling the humidity level in the aviary reduces the growth of any unhealthy organisms. A good ventilation system will exchange the air from every corner of the room. If high moisture levels occur in certain areas, problems will eventually occur.
Moving air removes summer time heat, generating a cool breeze thus greatly increasing the comfort levels of the birds.
---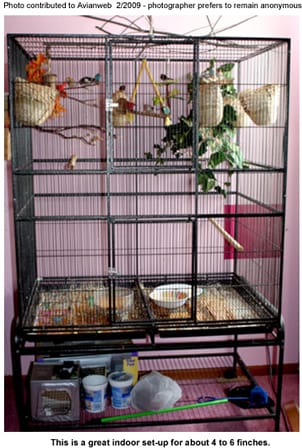 ---
Beauty Of Birds strives to maintain accurate and up-to-date information; however, mistakes do happen. If you would like to correct or update any of the information, please contact us. THANK YOU!!!