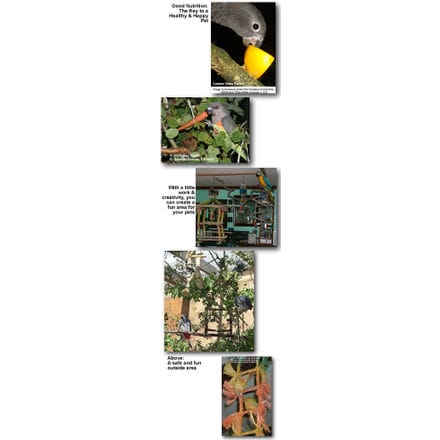 The Three Major Elements Needed for a Companion Bird's Happiness:
Keep them healthy:
Good nutrition is the key for a happy and healthy pet bird. Seed-only diets are the most common cause of premature death in companion birds. These one-sided diets result in nutrient deficiencies and cause diseases such as fatty liver disease. A sick or weak bird is not going to be happy.
For information on proper bird nutrition, please visit this website
Provide daily access to unfiltered sunlight and/or full-spectrum lighting. Birds need exposure to UVA and UVB rays from direct sunlight or full-spectrum lighting to synthesize vitamin D necessary for bone health. Window glass blocks necessary UV rays.
If you can provide an

outside enclosure that would be optimal for the bird – not only as part of an enriched environment but also to enjoy fresh outside air and unbroken sunrays.

If you can't provide an outside area for your pet, here are some "lighting options " that will provide the same health benefits to your bird as natural sunlight would.

Grooming:

Your pet should be given opportunities to bathe, as a regular grooming routine will promote feather and skin health. There are different ways to achieve it. I provide a shallow dish for my birds to bathe in. Other birds like to "shower" underneath the faucet while others prefer to be misted with a clean spray bottle of water.
Protect them from the sun in the summer and the cold in the winter.
Keep them warm:
Get a heater!

Ceramic heaters produce a constant flow of heat without any light that might disturb your pet's sleep. Do make sure to keep the heater away from the cage and your pet as these heaters can get very hot.

Another option is a warming perch. Birds lose a lot of heat through their feet, therefore, a heating perch is really a great way to keep your pet warm. Put the perch in a place that our bird likes to sleep at night – oftentimes that is near the top of the cage.
Birds like to huddle together to keep warm; however, a lone pet bird doesn't have that benefit. Providing

a soft fabric for our bird to snuggle

up against is a great way to make your pet more comfortable. If your pet likes to sleep in

tents

, then provide one with a thick lining.
Keep them cool:
Make sure that your birds have a shady area to escape to when it gets too hot.
Offering water dishes with fresh cool water to bathe in will also help birds regulate their own heat. A misting system may work well in an aviary.
Extreme Heat: naveed@ExhibitionBudgie.com – Naveed Ijaz from Budgerigar Society of Pakistan suggested showering mud floors with water. This method dramatically lowers the temperature in aviaries in areas where heat can go up to 50 degrees Celsius (122 degree fahrenheit).
Indoor rooms may require a fan (if you are using a ceiling fan, do make sure that the birds are not out when the fan is on, as the can fly into the fan).
Other options are an air conditioning system or a stand alone / window or box fan with a protective cover over it.
Provide appropriate living space for your pet:
Spacious accommodation: I can't think of a worse faith than being crammed into a tiny cage that doesn't offer any entertainment. This truly makes for a miserable life. The cage should be big enough to accommodate perches, bird toys and several food dishes; as well as allowing for exercise – maybe even short flights from one perch to another. There is no limit on cage size. If you can make them at least twice as big as is normally recommended that would be excellent – if you can provide an even larger cage the better — the only limit is on the space and resources that you have.
For tips and information on housing options, please visit this website.)
Make it a FUN place to be: Giving your birds a desirable living space is no different that you wanting to live in a clean, well decorated home. Offer your pet a variety of toys and enrichment activities.
"Foraging" has become a popular term amongst professional animal caretakers and extending now to the educated pet owners. The good news is that you don't need to buy expensive toys to keep your pet happy. Many of the best toys and entertainments are free, or very inexpensive. Please visit the Foraging web pages for easy and inexpensive 'tricks and tips."

Natural perches are best. For larger birds you can buy suitable lengths of hardwood perch materials at most pet supply shops. If you have the benefit of a garden with non-toxic trees, all the better as you will have an unlimited supply of fresh branches for nutrition and perching. Do make sure to clean the branches carefully before providing them to your bird. For the smaller birds, tree limbs work best. Position the perches in a way that they might be used in the wild. The smaller birds enjoy a tree-like setup where as the larger birds prefer horizontal perches.

Bring Nature Inside: Birds are part of nature. They enjoy trees, plants and wildlife as much as we do. Even if they are kept indoors, we can still provide them with living plants and branches with leaves still on them. You will find that not only your pet will enjoy it, but this can be a very pleasing "decorator touch" for your home. Do make sure to only use safe, edible plants. / non-toxic wood. If your bird is going to chew the plants up right away, you will want to choose something that is inexpensive to replace on a regular basis. I find that for small birds herb plants work well. If you are not a gardener yourself, buy potted parsley or other herbs at your local nursery and place them in your bird's cage or on your pet's playground.

Indoor plants not only increase oxygen flow and clean the indoor air, but they also provide your birds with privacy – which may also help alleviate some behavioral problems, such as feather plucking.
---
Allow for plenty of out-of-cage time and social interaction with the "flock":
Things you can do to entertain your pet when you are at work.
Provide daily exercise and plenty of out-of-cage time: Even the largest cage will not allow for sufficient physical and mental stimulation. In addition to a large cage, a play gym or two in areas that the family usually hangs out in would make a huge difference in your pet's quality of life. Free flight is a great way to exercise your pet bird.
Social Interaction: Birds are social creatures by nature. They enjoy the company of other living beings around them. If it is an only bird, do make sure that your pet is kept in the family room, or any other room the family usually hangs out in. Do make sure to spend quality time with your pet. If you find you are too busy, get another bird as a companion. You may not be able to place them in the same cage right away. It will take time for them to get to know each other. But even if they never really bond, they will still enjoy watching each other and interacting. Although, most of the time, they will "buddy up" eventually.
Place multiple perches/stands throughout the house in areas that your family likes to hang out in.
Take your pet out with you! I can't think of anything more enjoyable for pet birds than being "part of nature" and seeing what is going on "beyond the walls" of its home. Just think about it. Birds are meant to fly high above canopies; they are part of nature — yes, there are safety considerations and pet birds will inevitably lose some freedoms that their wild cousins enjoy. However, we can immensely enhance their life experiences and connection to nature by taking them out at times. As a special bonus, you will be able to spend quality time together. There are several options:
A secure outside enclosure as discussed above.
A carrier that you can place your pet in when you go out (one that provides a clear view to the outside).
Bird Harness / Flight Leash: It's best when young birds are harness-trained, as it is more challenging with the older birds.
Species Research by Sibylle Johnson
---
Please Note: The articles or images on this page are the sole property of the authors or photographers. Please contact them directly with respect to any copyright or licensing questions. Thank you.
Comments
Environmental Enhancements
The following information has been provided by Dr. Jill M. Patt, DVM practicing in Mesa, Arizona. She has been keeping and raising exotic birds for years, providing her a unique knowledge and understanding that goes beyond that of a regular vet who does not have the benefit of daily interaction with birds / parrots.
Valuable Web Resources:
---
1) Full Spectrum Lighting:
Often our birds are completely housed indoors and never see the sunlight. Even those by a window will not benefit from the sun because the window acts as a filter preventing the bird from absorbing the benefits of the sun such as Vitamin D3. Birds use the sunlight by preening their feathers with feather dust in the case of cockatiel or cockatoos or the oily secretions of the uropygial (preen) gland. The substance on the feathers will undergo a chemical reaction from the sunlight producing Vitamin D3 which the bird ingests with further preening of the feathers. The exclusively indoor bird does not have the benefit of the reaction. One alternative is to provide full spectrum lighting. The packaging for the light should state that is provides both UVA and UVB rays and must always be a fluorescent light and not an incandescent bulb. The introduction of the light should be slow to prevent stress to the bird. I'd suggest starting out with the light in the same room but not lighted or next to the cage and gradually moving it closer to the cage over several days. When the bird appears comfortable with the light is can be placed within 18inches of the cage and turned on. Ensure that the bird is unable to access the light or cord because most will chew given the opportunity. Also, the light should not be left on around the clock. Night time and darkness is also important to the bird's health and I recommend 12 hours of uninterrupted darkness each night. Some of the better light will simulate dawn and dusk with a slow brightening and dimming and can be placed on a timer for consistency.
Another option is to provide an outdoor cage for temporary sunning. The cause must have shaded areas available at all times and should be protected from wild birds or their droppings.
---
2) Humidity Level:
Many of our captive birds are adapted to the jungle and very high humidity. I suggest you research the natural lifestyle of your particular species and attempt to provide something close to their natural temperature and humidity. Often we live in areas of the country with very low humidity (i.e. Arizona) or we live in areas that require artificial heating which will lower the humidity. Either of these situations can be uncomfortable for our birds. Feather pickers will often benefit from increased humidity because it is soothing to the skin and allows them to keep their feathers clean.
A great way of increasing the humidity is to provide a daily bath for your bird. Bathing can be done in a variety of way depending on the individual. Many of the larger parrots enjoy showering with us and there are actual shower perches that can be purchased.
Smaller birds may enjoy misting or a shallow bowl of fresh clean water placed in the cage daily.
Noise will often stimulate bathing activity and my birds will almost always bathe when I run the vacuum. For smaller birds I've also run the skin faucet slowly and placed the bird on a towel over the skin divider (for traction). The birds will watch you running your hands under the water and often will join in on the activity.
Bathing with water alone will improve the health of the skin and feathers, but for feather pickers I've often added a prescription shampoo to the bathing routine (especially for the shower birds) and this is often an effective way of treating secondary skin infection caused by the trauma of picking. Of course you should never use an over the counter shampoo and also check with your vet prior to using any substance on the skin or feather.
Often time anti-pick sprays will often increase the feather destruction because the bird is attempting to clean the substance off its feathers. So always check with your vet first.
A humidifier is another means of increasing the humidity. If used, the water chamber must be cleaned in the dishwasher every day to prevent growth of fungus and bacteria that can be very harmful to our birds. Also the paper or cage litter must be changed daily to prevent growth of fungus and of course the bowls should always be cleaned daily as well.
---
3) Provide mental stimulation during the day:
I cannot over stress the importance of this need. Our birds are often left sitting alone in the cage, with a dish full of food, while we are at work. These can be long boring hours for our intelligent companions. They have no interaction with other intelligent beings most of the day, there is no work involved in getting food and there is no ability for vigourous exercise during the day. Why wouldn't they feather pick?
In the wild these same birds would spend their time interacting with flock mates, flying to distant locations while expending lots of excess energy, and most importantly looking for food throughout the day (mental stimulation).
So what can we do? Toys, toys, toys... Think of a child spending time in a room alone and then the same child in a room full of enriching/interactive type toys. Still not perfect but better. I always suggest a variety of toys (see links below) that should include hand toys, puzzler toys, treasure chests, chewable toys and foraging toys. Think of toys not as an option or luxury for the pet bird, but as essentials to that bird's well being.
I also suggest placing a TV or radio on a timer so that it repeatedly goes on and off throught the day. This will still allow the bird some quiet time while also providing mental stimulation. Placing the cage in partial view of a window is also helpful. And requiring them to forage for their food is excellent mental stimulation. Foraging may involve hiding food or placing food in toys that they must "unlock" to get the treats. Please refer to the below websites for valuable information.
Please also see the following:
---
4) Vary the location of the cage or have multiple cages:
Caution should be used especially in a timid bird with little self confidence. Some birds are so frightened of change that a cage move will cause picking (see correct beginning). However, if your bird is already picking providing variety in the cage location may give them other things to think about and provide some distraction to slow the picking. Of course, it is best to start out early with a baby bird but even older birds can lean to tolerate change if the introduction is gradual.
---
5) A companion bird????
This is a tough question and can go either way depending on the individual bird. Ideally, I recommend when purchasing a baby bird that 2 birds be purchased. I believe it is unfair to these intelligent beings to require that they spend their lives alone. If raised together many birds will become lifelong companions.
The babies should both be hand fed so that they are very tame and you must interact frequently with both birds to keep them tame and loving with the family members.
The down side of having 2 birds is that they can become aggressive with each other (especially if introduced later in life) and breeding activity can be stimulated. Breeding activity or hormonal changes can occur with 2 birds of the same sex of even with a single bird that has a mirror.
The negative aspects of these hormonal changes are potential aggression, feather picking due to hormonal stress, and reproductive problems such as egg binding in females.
If a bird has lived the majority of its live alone and has behavioral problems such as feather picking I often do not recommend getting a second bird. The original bird is often very jealous of the newcomer and fighting may ensue, also the new bird may develop the same behavioral problems as the first. It is best to work exclusively on the original bird to improve its general health both mental and physical.
---
6) Caging:
Don't have your bird in the kitchen or in the center of activity but rather on the periphery of activity so that they can be a part of the family but can also "escape" for some quiet time.
---
7) Nutrition

Good nutrition is the key to a happy and healthy pet bird. Seed-only diets are the most common cause of premature death in companion birds. The Elements Needed to Keep Your Pet Bird Happy & Healthy.