The Red-crowned Parakeets (Cyanoramphus novaezelandiae) are small, mostly green parrots found in New Zealand.
The species is one of three New Zealand parakeet species known by the M?ori name k?k?riki.
Not to be confused with the Red-crowned Parakeet (Pyrrhura roseifrons) from South America.
---
Sub-species:
Red-crowned Parakeet Cyanoramphus novaezelandiae novaezelandiae (Sparrman, 1787 (Nominate) – Has a widespread distribution
 
Distribution
The Red-crowned Parakeet was once widespread across the islands and mainland of New Zealand. It was extremely abundant during the 1880s and irruptions occurred in a number of locations due to their vulnerability to introduced species, particularly stoats, rats and possums.
At one time, this species was considered "effectively" extinct on the mainland of New Zealand, although recent records indicate that small groups of them still exist. Some cage escapes / releases or vagrants from offshore island populations have also established themselves.
The Field Guide to the Birds of New Zealand' – B.D. Heather and H.A. Robertson; 2005; 440pp; Viking states as follows: "Common to abundant on many islands free of mammalian predators. Very rare on the mainland." … "In the North Island, a few are now found in heavy forest of western Northland, the central North Island and the Rushine Range" … "[V]agrants visit bush patches along the eastern coast of Northland from nearby island."
For the most part, this species is confined to Stewart Island/Rakiura and a number of offshore islands (such as Kapiti Island, Tiritiri Matangi Island and Matiu/Somes Island) as well as the Kermadec Islands to the north of New Zealand, on the Auckland Islands to the south and the Chatham Islands to the east.
The two island populations are sometimes afforded subspecific status. They are considered vulnerable by the IUCN and BirdLife International because the remaining populations are highly fragmented.
According to the Porirua City News (17 November, page 8) published in October 2004, two pairs of Red-crowned Parakeets were seen in the Porirua Scenic Reserve, probably having flown from Kapiti Island.

Description
They average 27 – 29 cm or 10.5 – 11.6 inches in length and have a wing length of 125-139 mm (5 – 5.5 ins).
The general plumage is green; yellowish-green to breast, abdomen and under tail-coverts; forehead, crown and stripe extending to behind eye red. They have a red patch to each side of the lower back. The outer webs of the flight-feathers are violet-blue.
The irises are red. The feet are grey. The bill is a pale bluish-grey with blackish tip.
Males and females look alike; except males tend to be a little larger and have rounder heads and broader / larger beaks. However, this method of gender identification is not exact – especially if it involves under-sized males or mutations.
Immatures resemble adults, but have less red to the head and reddish-brown irises. Also, the tail is shorter.
Behavior
They are usually observed in pairs or small groups in treetops or on outer branches of bushes outside the breeding season. Pairs may remain alone throughout year, but these parakeets usually form small flocks.
They often forage on or near the ground. They gather at springs and water holes on islands with limited water supply to drink and bathe. Occasionally flocks fly to neighboring islands to forage.
They are fairly approachable.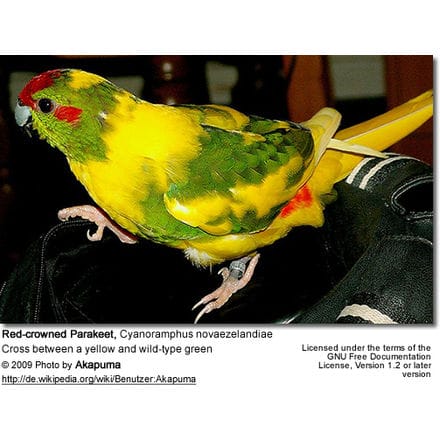 Aviculture
The Red-crowned Parakeet is common in aviculture and is relatively easy to breed.
A clutch may consist of 3 up to 9 white eggs, which are incubated for about 20 days.
Several color mutations are available, including yellow, cinnamon and piebald.
Captive Breeding, Housing and Care
Diet / Feeding
Red-crowned Parakeets feed on leaves, buds, flowers, shoots, seeds, fruit, berries, nuts and other parts of plants.
They also eat insects and animal remains. On islands and In coastal areas, they forage on seaweed and mussels.
They also take up tiny stones, most likely to help with digestion.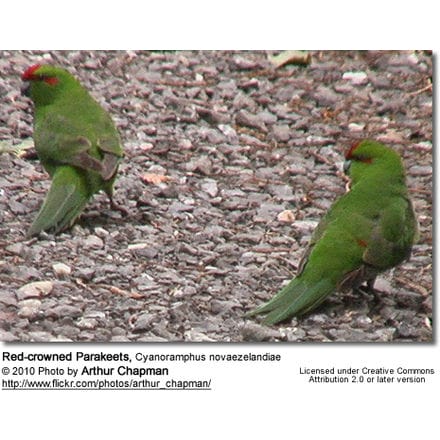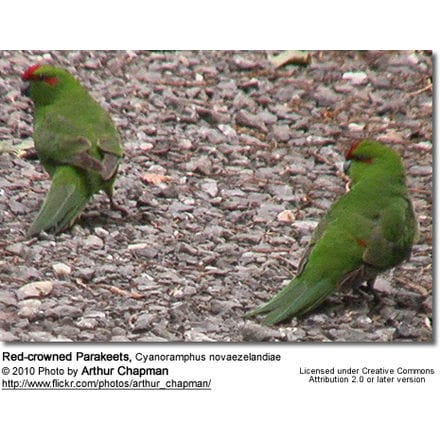 Calls / Vocalizations
They have trisyllabic, shrill and soft calls. While feeding a chattering is heard.
Taxonomy
The species was once lumped with several other parrots from New Zealand's outlying islands, New Caledonia and Norfolk Island, but these have now been afforded full species status.
Species Names
Scientific: Cyanoramphus novaezelandiae novaezelandiae … English: Red-fronted Parakeet … Dutch: Roodvoorhoofdkakariki … German: Ziegensittich … French: Perruche à front rouge …
CITES I – Protected Species
Kakariki Information … Kakariki Photo Gallery
---
Beauty Of Birds strives to maintain accurate and up-to-date information; however, mistakes do happen. If you would like to correct or update any of the information, please contact us. THANK YOU!!!