The Red-flanked Lorikeet aka Pleasing Lorikeet occurs naturally in Pandjang, Seram, Ambon and Ambelau, Southern Moluccas: Kai and Aru Islands, Southern New Guinea, East Gulf district, Eastern Highlands, Papua. (Please refer to below distribution map.)
It is considered an endangered species (CITES II) in its natural habitat.
Description
The gender is easily identified as only adult males have the red plumage on the head and sides (please refer to the photos above and to the right).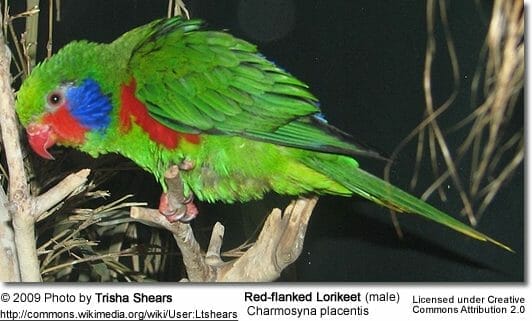 There are five subspecies (including nominate)
Red-flanked Lorikeet aka Pleasing Lorikeets (Charmosyna placentis placentis) – Temminck 1835 – Nominate species
Red-flanked Lories as Pets or in Aviculture
Due to their endangered status, any suitable specimen that cannot be released back into their natural habitat should preferably be placed into a well-managed breeding program to ensure the continued survival of this species.
Taxonomy
Family: Loriidae
Genus: Scientific: Charmosyna … English: Honey Lorikeets … Dutch: Honingpapegaaien … German: Zierloris … French: Loriquet de miele
Species: Scientific: Charmosyna placentis placentis aka Hypocharmosyna placentis placentis … English: Red-flanked Lorikeet, Pleasing Lorikeet … Dutch: Prachtlori, Blauwstuitlori … German: Schönlori … French: Loriquet à flances rouge
Sub-Species / Races Including Nominate: intensior, placentis, ornata, subplacens, pallidor
---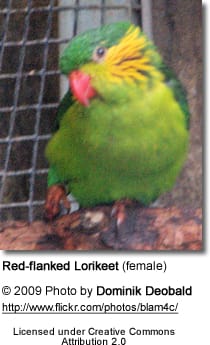 Sub-species:
Solomon Island Red-flanked Lorikeets:
Distribution: Eastern and northern New Guinea west to Bereina area and south to Sarmi District, Irian Jaya, Indonesia, Bismarck Archipelago, Solomon Island (Bougainville and Fead)
Family: Loriidae
Genus: Scientific: Charmosyna … English: Honey Lorikeet … Dutch: Honingpapegaaien … German: Zierloris … French: Loriquet de miele
Species: Scientific: Charmosyna placentis pallidior aka Hypocharmosyna placentis pallidior… English: Solomon Island Red-flanked Lorikeet … Dutch: Solomon Blauwstuitlori … German: Solomonen Schönlori … French: Loriquet aux flances clairet
CITES II – Endangered Species
Halmahera Red-flanked Lorikeets:
Distribution: North Mollucas / Maluku Islands, Gebe Western Papua Islands, Western New Guinea
Family: Loriidae
Genus: Scientific: Charmosyna … English: Honey Lorikeets … Dutch: Honingpapegaaien … German: Zierloris … French: Loriquet de miele
Species: Scientific: Charmosyna placentis intensior aka Hypocharmosyna placentis intensior … English: Halmahera Red-flanked Lorikeet … Dutch: Halmahera Blauwstuitlori … German: Halmahera Schönlori … French: Loriquet aux croupons violet
CITES II – Endangered Species
Mayr's Red-flanked Lorikeets:
Distribution: Western Papuan Islands, except Gebe. North-western New Guinea
Family: Loriidae
Genus: Scientific: Charmosyna … English: Honey Lorikeets … Dutch: Honingpapegaaien … German: Zierloris … French: Loriquet de miele
Species: Scientific: Charmosyna placentis ornata aka Hypocharmosyna placentis ornata… English: Mayr's Red-flanked Lorikeet … Dutch: Mayrs Blauwstuitlori … German: Blaubürzeliger Schönlori … French: Loriquet ornament
CITES II – Endangered Species
Sclater's Red-flanked Lorikeets:
Distribution: Eastern and Western New Guinea
Family: Loriidae
Genus: Scientific: Charmosyna … English: Honey Lorikeet … Dutch: Honingpapegaaien … German: Zierloris … French: Loriquet de miele
Species: Scientific: Charmosyna placentis subplacens aka Hypocharmosyna placentis subplacens … English: Sclater's Red-flanked Lorikeet … Dutch: Groenstuitlori … German: Grünbürzel Schönlori … French: Loriquet de Sclater
CITES II – Endangered Species
---
Other Relevant Web Resources