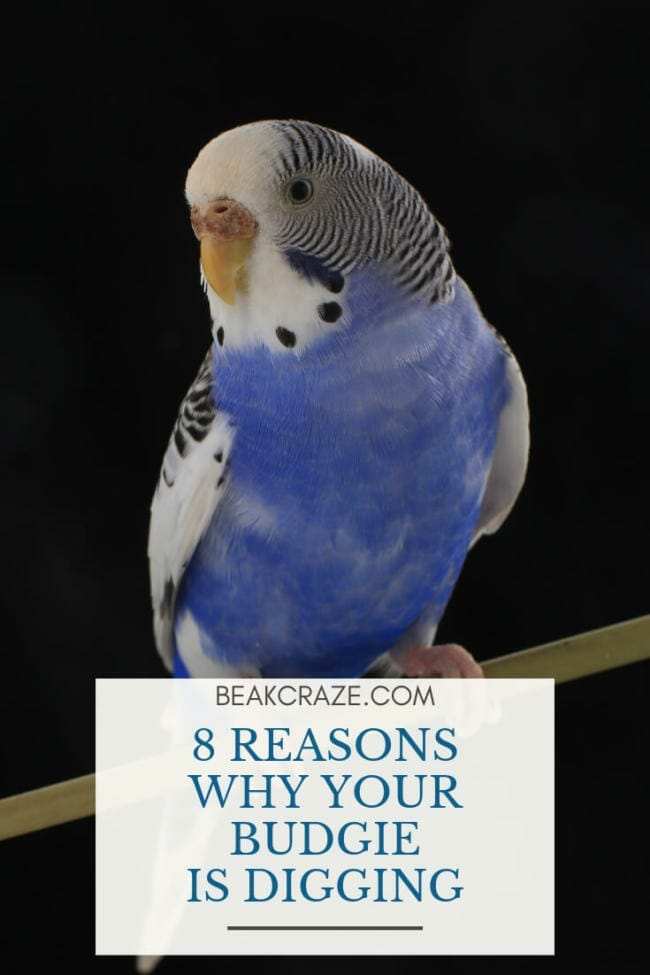 If you want a pet that's cute, loyal, and extremely silly a budgie is the way to go. Many owners notice one budgie behavior that fits perfectly into the silly category- digging. You may think they learned it from the dog, but could this strange behavior have more of a meaning?
Why is my budgie digging? Budgies tend to dig in different areas of their cages for different reasons. Budgies that dig at the bottom of their cages could do so because of the material lining the cage's bottom. Budgies digging in their food bowls usually do so because they are searching for fresh seed. Your bird may also be digging because it is a natural behavior.
As listed above, there are many reasons why a parakeet digs around in its cage. Below are detailed explanations as to why they engage in these behaviors and what you can do to help.
Digging in the bottom of the cage
Many budgie owners are perplexed to see their bird start digging at the bottom of its cage out of the blue. There are many reasons as to why budgies do this, ranging from completely harmless to troubling so it is important to understand and monitor this behavior.
1. It wants to escape
This completely benign behavior is easy to recognize. Parakeets are strong-willed creatures that love freedom. If your bird hates being locked up, it may dig at the bottom of its cage in an attempt to escape.
This action is often accompanied by gnawing at the cage door and lots of talking. If this seems to be the case, let your bird fly free as often as possible.
Sometimes you can also see your budgie running from side to side. If that's the case, we recommend reading our article on that here!
2. Juvenile behavior
If you have a baby budgie at home, it might dig around its cage because it is young and still learning. This behavior is quick to recognize if you know how old your bird is. Luckily, these actions are quickly outgrown.
3. Burrowing
If your budgie kicks around the bottom of its cage and ultimately settles down beneath the litter, it is burrowing. This is another behavior consistent with juvenile parakeets. They also tend to do this if they are introduced to a new home or cage.
As your bird ages and becomes more comfortable with its surroundings, it will leave this practice behind.
If your budgie starts doing this out of nowhere, it is a sign of nesting. Female parakeets can lay unfertilized eggs, just like hens. Its reproductive instinct takes over, meaning it needs a comfortable, safe place to lay its egg.
A cozy corner and soft litter is the perfect combo for a baby burrow.
We have created an article on Cockatiels sitting at the bottom of their cage. If your budgie does that, you should read that article, as their behavior is the same in this regard. Read our article on parakeets sitting at the bottom of their cage here!
4. They don't like litter
Budgies dig at the bottom of their cages sometimes because they don't like the litter you use. There is a large variety of bedding you can try including gravel paper, corn cobs, straw, shredded paper, and pellets.
If you wish to avoid this altogether, opt for a cage with a grated bottom. This is a good choice not only to stop your bird from digging but to also make sure they are not eating from the cage floor. If your bird drops seed, it may try to eat it off the cage floor and can ingest feces.
If you need help with finding a good bedding for your birdcage, you should have a look at our article on birdcage bedding here!
5. Illness
Birds are excellent at hiding illness and it can be difficult to spot warning signs. Ailing parakeets are known to engage in behavior opposite of what is typical. If your calm bird starts acting out and digging around the bottom of the cage, it could be stressed or not feeling well.
Always monitor your budgies health if you notice out of the ordinary behavior. Also, if you feel that your budgie might be sick, you should have a look at our article about Symptoms Of A Dying Budgie here!
Digging in the food dish
Budgies love to dig around in their food bowls.
It's a good idea to understand why to prevent a messy floor and a hungry bird. (By the way, if you want to stop your budgies from making a mess all the time, let us give you some tips on that in this article!)
6. There's too much food
It seems like your budgie is having the time of its life digging in its food bowl because it just loves to watch you pull out the vacuum. Luckily, this is far from the truth.
Most commonly, budgies dig in their food bowls to rid the dish of hulled seed. It wants to get to the fresh seed that is on the bottom.
One way to avoid this issue is to feed your bird smaller portions throughout the day instead of filling its food bowl to the brim and waiting for it to empty.
If you want to understand how much your budgie should eat, read our article on that here!
7. They don't like their food
Budgies are known for being picky when it comes to their food. They commonly kick food out of their dish because they want to get rid of what they don't like and get to the best-tasting seeds and treats.
Unfortunately, there is no easy way to know what your bird will like. Trial and error is usually the way to go. (However, we have created a list of 12 treats your budgie surely will love here!)
When it comes to making smart food choices for your little friend, the first step is to make sure you buy food designed for budgies. Budgies have frugivorous beaks, meaning their curved beaks are specifically designed for eating fruit pulp and opening fruit to get to the seed.
Additionally, they can eat seed that grain eating birds enjoy. Parakeet food is specially designed to incorporate both fruit and seed elements into the diet.
It is also important to make sure the food does not contain any large pieces that are difficult for your budgie to eat. An excess of large seed, such as unhulled sunflower seeds, will likely end up kicked to the floor.
Don't be afraid to experiment with "people" food. Budgies love to snack on fresh fruit and veggies. Produce is hydrating, packed with nutrients, and delicious!
Here are a few articles on that we recommend reading:
8. Digging in the water bowl
A budgie digging in its water dish is uncommon but not unheard of. They are very clean animals, so naturally, parakeets enjoy baths as part of a preening routine.
If your budgie takes a dip in its water bowl, it is normal behavior but it is not the best to have your birds drinking water double as its bathwater.
If your parakeet is comfortable roaming your home with you near. You can set up a bath for your bird in a sink. Make sure the water is tepid so your bird is comfortable. Some budgies also enjoy the spray that comes off of water faucets and showerheads.
It is okay to let your bird bask in this spray but stay nearby. If your bird accidentally flies under and becomes drenched, it will be unable to fly.
Lots of budgies also enjoy birdbaths that clip onto their cages. This way your bird can get the bath it wants in the comfort of its own cage.
Related Questions
Why does my budgie sit in his food dish? Most likely it is because their food dish is placed in a perfect spot. Resting atop of seed feels nice (think of your feet on a sandy beach). Female budgies may also use their food bowls as nests if they are preparing to lay an egg. If your budgie stays in the food bowl for extended amounts of time, monitor their health.
How do I know if my budgie is happy? If your budgie is happy, they often vocalize it by singing, whistling, and chirping. Also, a happy budgie is a busy budgie. Content birds love to fly around, play with toys, and snack throughout the day. Best of all, happy budgies will let you know by giving you a "kiss".