The Yellow Rosella (Platycercus flaveolus) – also known as Yellow Crimson Rosella – is a recently discovered subspecies of the Crimson Rosella, (Platycercus elegans). The main difference between the two is that those parts of the Crimson Rosella which are red are bright yellow on the Yellow Rosella.
Distribution / Range
Yellow Rosellas are endemic to, and are fairly common in, southern New South Wales, northern Victoria, and southeastern Australia. They are occasionally nomadic and movements are likely dictated by the availability of food and nesting opportunities.
They are found in galley forest areas with Eucalyptus camaldulensis groves along banks of Darling, Murrumbidgee and Lachlan Rivers as well as tributaries. They may also be seen in adjoining farmland and in Mallee vegetation. They are usually observed in pairs or small flocks when foraging in the outer branches of eucalyptus trees or on the ground.
Their flight is powerful and not as undulating as that of other Platycercus species.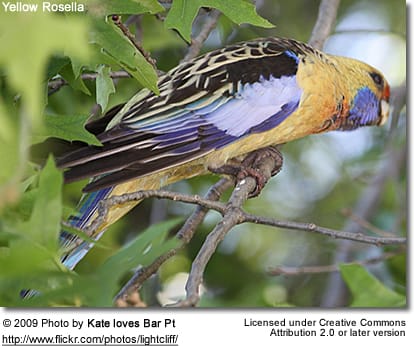 Description
Length:
Yellow Rosellas average 33 – 34 cm or 13 – 13.6 inches in length (including the long tail).
Males:
The male is generally pale yellow. The forehead is orange-red. He has a deep blue patch on the cheek. Nape (lower part of the neck), back and wing feathers black have a broad pale yellow edging. In many birds, the upper breast and throat are tinged with red. The median wing-coverts black; under wing-coverts and outer webs of flight feathers blue. The upper tail-coverts and lower back are dull yellow. The upperside of the middle tail-feathers are blue tinged with green. The outer tail-coverts are pale blue lightly tipped. The tail underside is grey with pale bluish tips. The bill is whitish-grey and the skin to narrow periophthalmic (eye) ring is grey. The irises are dark brown and the feet grey.
Females:
Hens have a more pronounced red tinge to throat and upper breast. They have a smaller and narrower bill.
Immatures:
Young birds are generally duller. Their back is olive-green, and the breast and abdomen are pale yellow-green.
They attain their adult plumage when they are about 15 months to 2 years old.
Sexing young birds can prove difficult and DNA sexing may be the only way to know for sure at a young age. However, it may be possible to sex birds that are at least 9 months as the molt into adult plumage.

Training and Behavioral Guidance:
Diet:
Natural Diet:
In their natural habitat, they mostly feed on grass and tree seeds (including sprouted seeds that dropped to the floor and were exposed to humidity), as well as a variety of fruits, berries, flowers and nectar.
Additionally, they take insects in their larvae – particularly during the breeding season, when they require more protein in their diet.
They forage in the trees and shrubs, as well as on the ground – usually in shaded areas.
Captive Diet:
A good Rosella diet should consist of canary seed, a mixture of millets, sunflower and safflower. Most people will use a Cockatiel seed mix with added Canary seed. They also enjoy fresh fruits and veggies such as apples, blackberries, oranges, cucumbers, sweet potato and mango. Kale, boiled egg can also be offered. I find that our Crimson Rosellas tend to appreciate fresh foods while the Golden Mantles will take bits and pieces leaving leftovers.
Sprouted or germinated seeds are usually more easily accepted by "seed addicts" than fresh fruits and vegetables.
They also enjoy fresh fruits and veggies such as apples, blackberries, oranges, cucumbers, sweet potato and mango. Kale, boiled egg can also be offered.
Calls / Vocalizations
Rosellas are often noisy, except when feeding, which is typically done in silence. When roosting in groups, soft chattering or high pitched rapid 'pi-pi-pi-pi-pi' contact calls can be heard. Their alarm calls are shrill and screechy. In flight, they make 'kwik, kwik' vocalizations.
Rosellas are not known for much talking ability but they can mimic whistles and songs. Though they do not have a true song they do have several melodious calls. Similar to a louder Red Rump, it is much more pleasant than the shrill and harsh sounds of Conures, Cockatoos or Macaws.
Breeding:
Reproduction in their natural habitat
The breeding season usually starts in March or April (in Australia from September through March)
In the northern parts of the United States, they mostly breed from April through September; in the southern USA, they may breed throughout the year.
The courting male will bow forward low on the perch while sounding out the mating calls. The interested female will do the same. This is usually followed by mutual feeding and then the actual act of mating.
Wild Rosellas usually nest near water, in the cavities of either dead or living trees, usually in eucalypts, or hollow stumps and posts. The nesting cavity is usually over 3 feet (1 m) deep and located up to 100 ft (30 m) above the ground.
The nest floor is usually covered with wood dust. The female alone incubates the eggs while the male feeds her and helps providing food for the young. In the wild, they usually produce 1 – 2 broods a season.
Training and Behavioral Guidance:
Lifespan / Age of Maturity
Rosellas can be expected to live 15 or more years. Females reach reproductive maturity when they are about 18 months old, while males are able to successfully breed when they are 2 – 3 years old.
Alternative Names:
Chinese: ????? … Czech: Rosela slámožlutá, rosela žluta … Danish: Gul Rosella … Dutch: Strogele Rosella … German: Strohsittich … Estonian: kuld-rosellapapagoi … Finnish: Keltarosella … French: Perruche à croupion jaune, Perruche flavéole, Perruche jaune … Italian: Rosella gialla … Japanese: kikusainko … Latin: Platycercus elegans flaveolus, Platycercus flaveolus, Platycercus flaveolus flaveolus … Norwegian: Gulrosella … Polish: rozella zólta, Rozella ?ó?ta … Slovak: rozela bledožltá … Spanish: Perico Gualda, Rosela Amarilla
Rosellas Information … Index of Rosella Species … Photos of the Different Rosella Species for Identification